American Horror Story has a tradition of serving up its most off-the-wall and terrifying episode every Halloween, and this year is no different. Of course, truth is always scarier than fiction, so last night's AHS paid homage to some of the most notorious real-life killers in history.
Putting aside any question of being in good taste, something Ryan Murphy gleefully left behind ages ago, this episode felt strangely detached from any narrative momentum we had been building. We barely touched on most of the assortment characters we've come to know, instead indulging in recapping the history of these real-life murderers. The episode felt a bit like a one-off. However, Freak Show's Edward Mordrake episodes also initially felt pretty self-contained, but they featured prominently in the season's end. While last night's ripped-from-the-history-books characters allowed for some expertly unhinged performances by both AHS vets and newcomers, at times it felt like little more than a living Wikipedia entry.
Pull up a chair at the most terrifying dinner party we can imagine, and dive into our SPOILER-filled recap, below!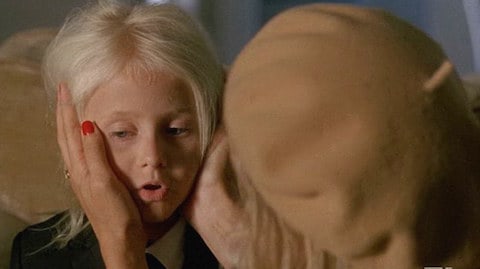 Before we get to the evening's central soiree, let's catch up with Mama Alex (Chloe Sevigny). She's picked up her formerly-missing boy, Holden (Lennon Henry), and brought him home. She didn't call the police or her soon-to-be-ex-husband or anything, because it's American Horror Story and things don't need to make sense. First, she introduces him to the dog, Jasper (though he may as well be named Chekhov). Then she takes his temperature (a chilly 75 degrees). But Holden is thirsty, Mommy. Alex goes to the kitchen to fetch him a juice, but we the audience know that Holden isn't thirsty for juice. And, hey! Has anyone seen that dog we casually introduced moments ago?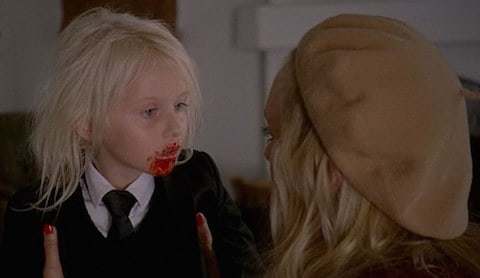 Of course, when Alex comes back to Holden, he's covered in the blood of the dog, like someone who just finished a plate of ribs at Applebee's. Then, Holden asks to be brought home to his "other mommy."
They return to the Hotel Cortez, and Holden hops back into his coffin. Gaga goes to Alex and explains that Holden has an incurable ancient blood virus. Gaga took Holden to protect him, because Alex's husband was neglectful (which, if she's only referring to the fact he answered his phone that one time, it's a pretty weak justification). Alex demands Gaga cure him, but that's not happening. Instead, Gaga offers to give Alex the same everlasting life. Alex denies her offer at first, but eventually allows Gaga to turn her.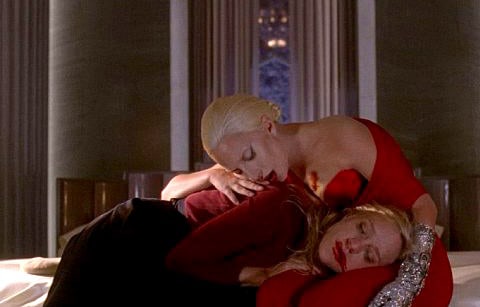 It's a better fate than what appears to await her husband, John (Wes Bentley). He's chatting on the phone with his daughter, Scarlett (Shree Crooks), when he notices blood dripping down from the ceiling. He goes upstairs to investigate, and he finds a very distraught Miss Evers (Mare Winningham). She shares a very sad story about losing her son in the Wineville Chicken Coop Murders (a real and horrifying event), and they bond over their shared feeling of responsibility for losing their children. This story also tips Lowe off that there's something very strange going on at the Cortez, considering those murders happened in the 1920s.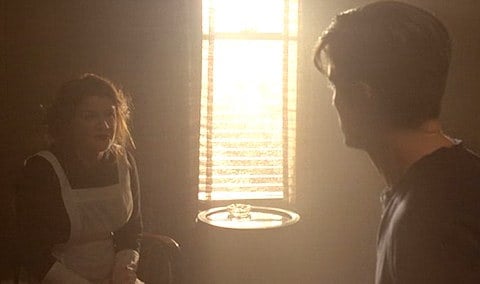 Evers doesn't have a lot of time to chat. It's time for the Devil's Night party of James Patrick March (Evan Peters), which, as we're told repeatedly, is the event of the season! Good thing Lowe has decided to start drinking again, just in time to get his invitation!
The party features, as March describes, "the Mount Rushmore of Murder." Party guests include real-life killers Aileen Wuornos (portrayed by Lily Rabe in a performance that holds its own against the memory of Charlize Theron's Oscar-winning take), John Wayne Gacy (played by John Carroll Lynch, in his second Horror Story clown role), "Night Stalker" Richard Ramirez (Anthony Ruivivar), Jeffrey Dahmer (Seth Gabel) and the Zodiac Killer, who remains masked.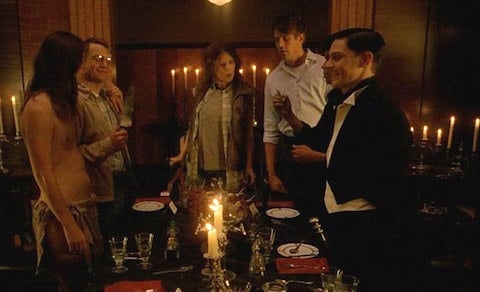 I won't go into the details of their conversation, because it was mostly just an exposition dump recounting their grisly murders. You can google them, if you're so inclined. What's relevant to our story at the Cortez is that March, whom they call the Master, crossed paths with each of them and advised them on their killing sprees. Lowe spends the majority of the party drunk on absinthe, eventually being handcuffed in his chair. At first, he believe these are all elaborate Halloween costumes, but as the sadistic shindig escalates, Lowe becomes more and more panicked. At one point, he grabs a gun and shoots Dahmer, which has no effect, because, you know, he's already dead.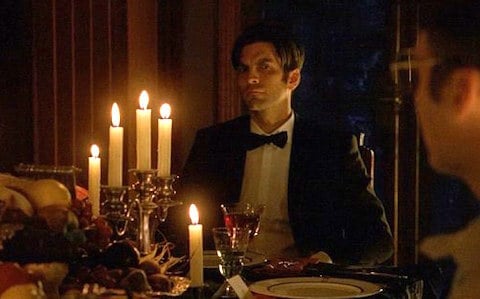 The dinner becomes more and more gruesome as the night goes on. March presents Dahmer with a barely-dressed modelesque man. Dahmer drills a hole in his head and pours in acid as the other killers dine, drink and dance. For dessert, Sally (Sarah Paulson) lures in a handsome heroin user for all the murderers to stab repeatedly for funsies.
Lowe wakes up in a dark, empty room with Sally, where she tells him he was drunk and hallucinating. But was he? Why was he invited to this party at all? What did March have in mind? Was it a twisted game, or is there a killer in Lowe somewhere as well?
Could it be that the Ten Commandments Killer Lowe is pursuing is actually Lowe himself?
Share your theory in the comments.