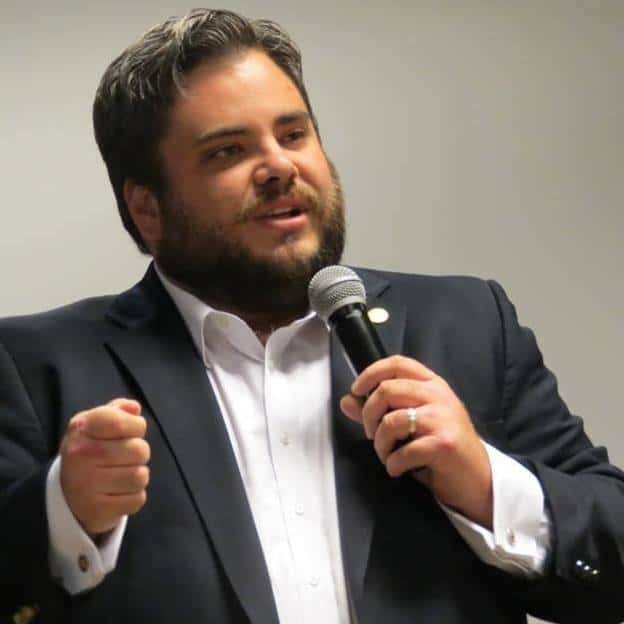 Right-wing Texas state Rep. Jonathan Stickland, who recently boasted about receiving an "F-" for his voting record on LGBT rights, is in hot water for denying marital rape and trying to cheat a drug test.
Stickland, a tea party darling who's known for being a loudmouthed antagonist in the Texas House, was exposed this week as a former pot-smoker who lied about his drug use, but who now claims his sins have been forgiven.
The Quorum Report reported Monday on posts Stickland made to online forums that were dug up by his opponent in the March GOP Primary, Scott Fisher.
"Rape is non existent in marriage, take what you want my friend!" Stickland wrote in a fantasy sports forum in 2008, in response to someone who complained that his wife wouldn't perform the "reverse cowboy" position.
On Wednesday, Stickland apologized for the post.
"I do not feel that way today. I can only repent and ask for forgiveness from the people it offended and hurt. Rape is serious and should never be joked about the way that I did regardless of my age," Stickland told The Texas Observer.
In 2001, Stickland posted that he was looking for a "smoking buddy" — someone who likes to "smoke da green." The next year, he sought advice about growing his own marijuana. In a statement responding to reports about the posts, Stickland said:
"Anyone who knows my testimony, my family, friends, and many supporters, are [sic] aware that I smoked marijuana in high school and my early collegiate years," Stickland said. "Let me even go a step further and say that during that time I wasted much of life, said and did things I wish I hadn't. But by the Grace of God my past sins are forgiven."
"Ted Cruz, Jeb Bush and I have all smoked marijuana. I never grew marijuana," he added. "But I hope and pray that my daughters never make the mistake I made, and that, if they do fail, they know of the forgiveness readily available."
In response to the the statement, Fisher's campaign released posts indicating Stickland lied when he claimed he only smoked marijuana in high school and college. In 2008, Stickland sought advice on passing a drug test at work, writing that he bought a $50 detox drink and was trying to hide it from his wife.
It's not the first time Stickland's web-trolling past has caught up to him. In 2012, Stickland's primary challenger unearthed online posts in which the incumbent endorsed same-sex marriage, backed union rights and bashed both Rush Limbaugh and Fox News. Stickland never admitted to making those posts, and he now claims to oppose same-sex marriage.
"The family is the foundation of every society and I believe it is under attack," his website states. "I believe marriage is between a man, a woman and God. These are fundamental principles and are essential in maintaining strong families in our state."