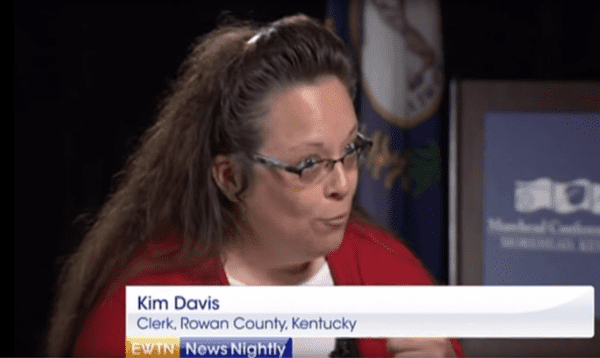 Kim Davis has an ominous New Year's prediction: she's only "the first of what's going to be very many" anti-LGBT fundamentalists to come in the years ahead.
Davis made her prognostication in an interview with Catholic news network EWTN that aired on December 17.
"The stand I took affects every church, every person that lives and loves God, that holds the word of God precious and dear and intimate in their lives," Davis told EWTN's Catherine Szeltner in an interview broadcast on December 17. "I'm just the first of what's going to be very many. You can rest assured of that. And it's not if it happens, it'll be when it happens. And maybe my stand will encourage others who will be in the same position."
Szeltner reported that Davis told her that her time in jail was a "joyful and peaceful time" and that she "knows that it is a possibility" she'll return.
Davis also recounted her meeting with Pope Francis to EWTN, tearing up as she recalls how she asked for the pontiff to pray for her.
Watch below.