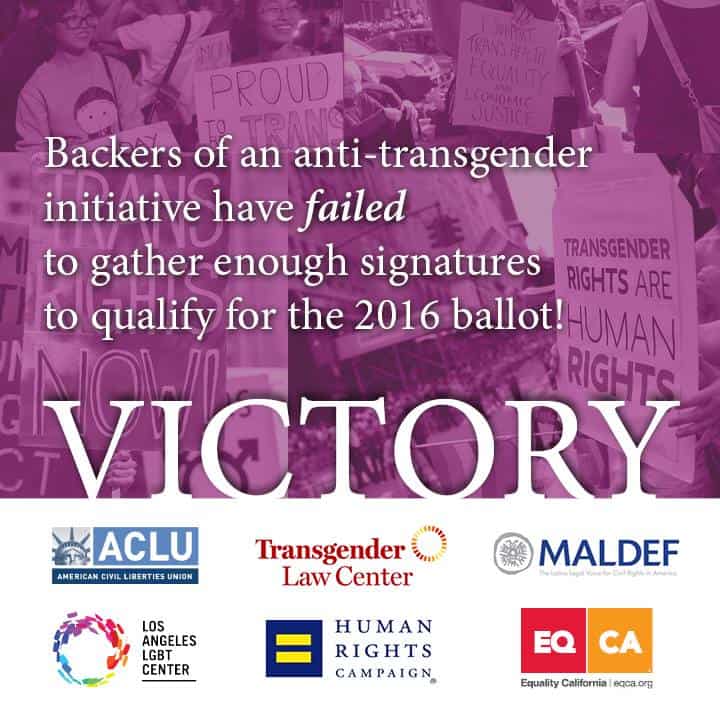 The so-called "bathroom wars" won't be coming to California next year.
Delivering a pleasant holiday surprise to LGBT advocates, the anti-LGBT group Privacy for All announced on Monday's deadline that it failed to gather the 365,880 signatures needed to get an anti-transgender initiative on the November 2016 ballot.
Had it been approved by California voters, the "Personal Privacy Protection Act" would have required trans people to use public restrooms according to their biological sex unless a doctor confirmed they had undergone gender reassignment surgery.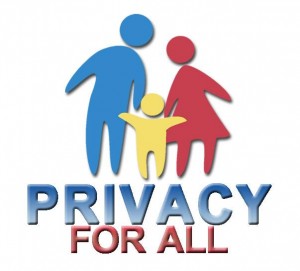 In response to Privacy for All's announcement, the coalition of LGBT groups opposing the initiative unveiled a campaign to educate voters about trans issues in an effort to stave off similar efforts in the future:
"All Californians — no matter their race, age, gender, or sexual orientation — should have the same freedom to support their families and go about their lives without fear of discrimination," said Kris Hayashi, executive director of Transgender Law Center. "This initiative was a poorly veiled attack on transgender people that sought to undermine that freedom and single out for harassment anyone who doesn't meet stereotypes of what it looks like to be male or female. Today Californians have made clear these types of discriminatory attacks on transgender people and our families, communities, and neighborhoods have no place in our state."
"Opponents of LGBT equality use ignorance and fear as a weapon against the transgender community," said Rick Zbur, executive director of Equality California. "We know from our research that many people don't really even know what 'transgender' means. While our opponents failed to gather enough support this time, we know they will be back. Through our public education campaign, we will educate the public about transgender people, the challenges they face and the contributions they make."
"Having lost the battle for marriage equality and having failed to qualify a similar ballot initiative several years ago, anti-LGBT extremists have failed once again in their attempt to legislate discrimination," said Dave Garcia, Director of Public Policy and Community Building at the Los Angeles LGBT Center. "I'm relieved they couldn't get the relatively low number of signatures they needed, but even if they had, I'm confident we would have defeated this measure. No one should fear harassment, interrogation or a lawsuit simply for using the bathroom that corresponds with their gender identity."
In 2013, Privacy for All submitted a similar ballot initiative seeking to overturn a law allowing K-12 students to use school restrooms and participate in sex-segregated activities according to their expressed gender. But elections officials rejected the initiative, saying it didn't have enough valid signatures. Privacy for All filed a lawsuit that's still making its way through the courts. From Privacy for All's announcement Monday:
According to privacy advocate Karen England, "There is no singular cause for the shortage of signatures.  Certainly the holiday season is not the best time to make a final push with petitions, but we just did not find the same urgency to enact a new law today as there was two years ago to overturn a law scheduled to be enacted in a matter of weeks."
Apparently PFA also had difficulty differentiating between the 2013 and the 2015 petition drives as many declined to sign current petitions because they mistakenly believed they had already signed.
"We are disappointed that this measure will not be on the 2016 ballot, but our efforts to protect privacy in bathrooms, locker rooms and showers will continue," said Gina Gleason.  "The legal action to count all ballot signatures submitted in 2013 continues, we expect to see lawsuits by those who have had their privacy violated, and we assume that a measure like the Personal Privacy Protection Act will qualify for the ballot in the future.