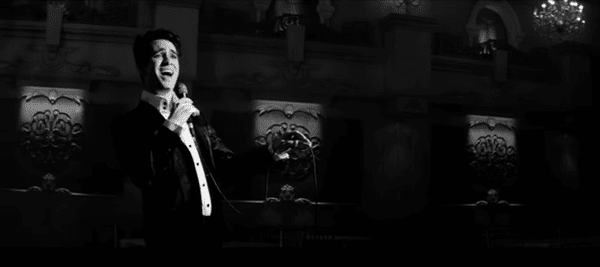 Panic! at the Disco frontman Brendon Urie channels crooners of bygone days in the band's latest music video, "Death of a Bachelor."
Also the title for Panic!'s forthcoming album, "Death of a Bachelor" sees Urie in shades of black and white playing the part of a suave, whiskey-drinking, cigarette-smoking lounge lizard not unlike Frank Sinatra. Okay, exactly like Frank Sinatra.
Urie told Billboard of his infatuation with Old Blue Eyes, "I would have loved to see Sinatra in the late '50s, early '60s — like in the Sands in Vegas, just chain-smoking, drinking whiskey." Speaking of Panic!'s new album, Urie says, "Sinatra creeps back in there, so there are a couple of songs I wrote trying to do like a Nelson Riddle arrangement."
"While the subdued but swingin' horns on ["Death of a Bachelor"] bring to mind frequent Sinatra arranger Nelson Riddle, Urie adds a stuttering beat to keep the song from being a purely throwback affair. Similarly, clipped vocal loops serve as backup voices, instead of one continuous track.
But when Urie's voice hits those big notes with Sinatra-styled gusto, there's no denying he's drawing inspiration from the late legend — and, for someone who came up in the pop-punk scene, doing a surprisingly adept job at it."
The song itself also focuses on questions of marriage, love and happiness Urie has touched on before.
Watch as punk meets big band jazz, below: