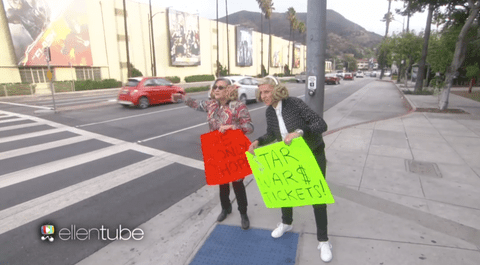 General Leia hung out with Ellen DeGeneres yesterday and decided to help hawk some tickets to the opening night of Star Wars: The Force Awakens on the street to unsuspecting fans.
The duo went to Barham Boulevard in Burbank outside Warner Brothers Studio with homemade signs that read "Star Wars Tickets!" and "We're Ur Only Hope!" They first asked fans who pulled over to make a donation "to charity" in exchange for the tickets. Though when many responded that they didn't have cash ("I have like $150, but like on my debit card"), Fisher and DeGeneres began giving the tickets away.
Some individuals did have cash on hand and gave up to $100 to Fisher for a (fake) charity that helps to combat mental illness in animals. Not sure where that money is actually going but, knowing Ellen, she'll think of a charitable and/or comedic cause.
Watch Carrie Fisher and Ellen hit the streets, below: