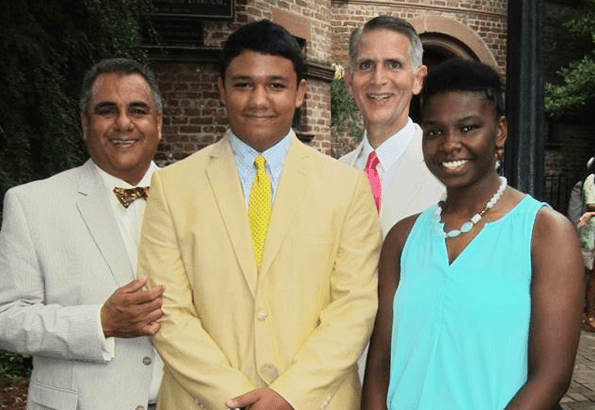 A leading Catholic newspaper has selected a same-sex couple who successfully challenged Kentucky's gay marriage ban as the publication's "Persons of the Year."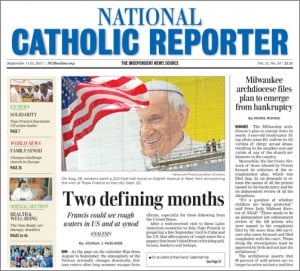 The National Catholic Reporter, a progressive publication that is independent of the Catholic church, bestowed the title on Greg Bourke and Michael DeLeon of Louisville in an editorial Monday.
Bourke and DeLeon, practicing Catholics who've been together for 33 years, were plaintiffs in Bourke and DeLeon v. Beshear, one of the cases resolved by the U.S. Supreme Court in its historic June ruling in favor of nationwide marriage equality.
The selection of Bourke and DeLeon is noteworthy given that the Catholic Church opposes same-sex marriage and condemns homosexuality as "intrinsically disordered," although Pope Francis has signaled a more inclusive tone toward LGBT people.
From The Catholic Reporter:
One Catholic couple who can — and do — tell the story of the benefits of same-sex marriage are Greg Bourke and Michael DeLeon of Louisville. In a com­mitted relationship for 33 years (and married in Can­ada in 2004), Bourke and DeLeon are lifelong prac­ticing Catholics and active members of Our Lady of Lourdes Parish for 28 years. Together, they are rais­ing two children. By all accounts, they have become vital to their community.
Interviewed by the Huffington Post last March just before the Supreme Court heard oral arguments in Obergefell v. Hodges, Fr. Scott Wimsett, pastor of Our Lady of Lourdes, described Bourke and DeLeon as "loved and respected. … You see how they fit in."
The reporters had met Bourke and DeLeon as they were taking orders and serving meals at a parish Lenten fish fry.
"They're just good people," Wimsett said. "And that's kind of what it's all about, isn't it?"
Although their pastor is accepting, Bourke and DeLeon still face discrimination in their parish. They were thrust into the spotlight and became plaintiffs in the marriage case after Bourke was removed as a Boy Scout troop leader four years ago. Although the Boy Scouts lifted its ban on gay adult leaders this year, the organization still allows church-sponsored troops to bar them. Louisville Archbishop Joseph Kurtz, who called the high court's marriage ruling "a tragic error," has instructed pastors to prohibit gay troop leaders, so when Bourke reapplied, he was denied.
The newspaper also notes that 10 Catholic Church employees were fired in 2015 due to their sexual orientation:
Today, we address a more fundamental issue: How will we as a church live with our gay, lesbian and transgender brothers and sisters? We are past the time of "love the sinner" platitudes. …
Bourke and DeLeon are emblematic of this major challenge facing the church today, because they force us to ask not how will we live out a hypothetical situ­ation, but how will we live with Greg and Michael. They give flesh to an abstraction.
The answers the church is giving now are con­fused, uneven and often cruel. Greg and Michael — and countless gay, lesbian and transgender Catholics — deserve better.
Read the newspaper's full editorial here, and read Freedom To Marry's profile of Bourke and DeLeon here.