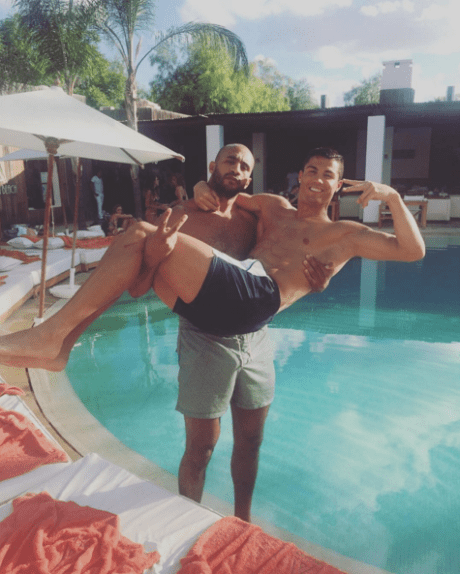 Soccer star Cristiano Ronaldo says that "personal problems" have plagued him this season contributing to what one British tabloid referred to as his "up-and-down form."
That tabloid, The Sun, suggests that those personal problems have something to do with media speculation that Ronaldo is gay and in a relationship with Moroccan kickboxer Badr Hari. The Sun's headline says it all: "Cristiano Ronaldo admits 'personal problems' are affecting form after 'gay relationship' revelation."
The "revelation" The Sun refers to is a claim made by a French TV presenter who picked up on Spanish tabloid gossip about Ronaldo and Hadri and shared it with his audience of more than 400,000 viewers: "
"Daniel Riolo — a contributor on French television show 'Touche pas a mon sport' — incredibly hinted that pair were more than just friends.
The studio audience was heard gasping when Riolo said: 'Ronaldo takes three or four jets a week to see a friend in Morocco to cuddle.'"
However, Cristiano's remarks on his "personal problems" were vague at best:
He told Spanish TV station Antena 3: "I have been below my level.
"You have to take into account that I have had some personal problems.
"I would prefer to keep them to myself — but I am in a better place now."
The Portuguese ace netted FOUR goals as his side thrashed the Swedish minnows to secure top spot in Champions League Group A.
But that goal-rush came after a rollercoaster start to the season which has seen motivation called into question.
Check out photos of the "bros" below:
https://instagram.com/p/9RPcQMOlhI/?taken-by=badrhariofficial
https://instagram.com/p/8nzlzsOllm/?taken-by=badrhariofficial