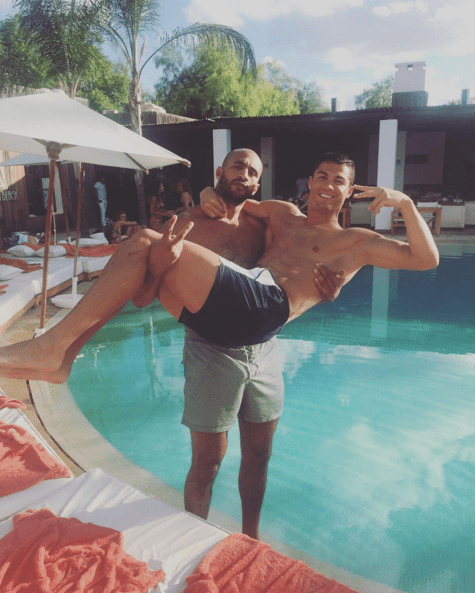 Back in October we posted some Instagram shots in which Cristiano Ronaldo is seen cuddling flirtatiously by a pool with Moroccan kickboxer Badr Hari. In the photos, Hari jokes, "just married."
https://instagram.com/p/8nzlzsOllm/
https://instagram.com/p/8qkTG7ulgq/
Apparently, some members of the press are suggesting there is more to their play than simple one-off Instagram photos, and UK tabloid The Sun has picked up on it:
It is alleged the Real Madrid star, 30, regularly jets to Morocco after training for 'cuddles' with friend Badr Hari. Reports in Spain this week claimed that Madrid officials were concerned about how Ronaldo's lifestyle was affecting his performances.
According to Spanish press, the Portuguese forward has frequently been flying to North Africa after sessions on his £14million private jet to spend time with Hari, 30. And Daniel Riolo — a contributor on French television show 'Touche pas a mon sport' — incredibly hinted that pair were more than just friends.
The studio audience was heard gasping when Riolo said: "Ronaldo takes three or four jets a week to see a friend in Morocco to cuddle." It was also claimed that Ronaldo has had cosmetic surgery on his nose.
The daily sports chat-show, presented by Estelle Denis, has an audience of up for 400,000.
Of course, they could just be "bros":
https://instagram.com/p/9RPcQMOlhI/?taken-by=badrhariofficial