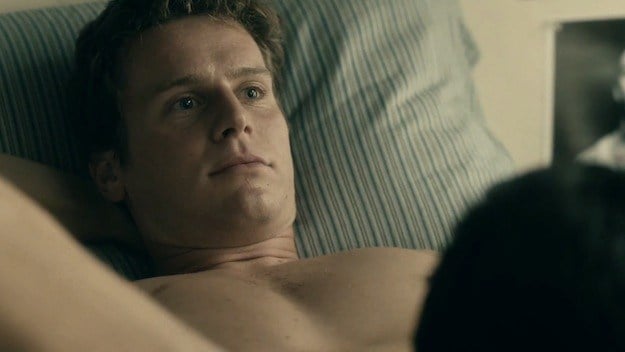 In an interview with Michaelangelo Signorile on Sirius XM, actor Jonathan Groff shared some of the nitty gritty details of what it's actually like to shoot a gay sex scene.
Groff has become acquainted with such work on the HBO series Looking, which was cancelled after two seasons though given a two hour movie to tie up loose ends.
Recently, Groff mentioned that the Looking film will include the "most intense sex scene" he has ever done. Joking about filming that scene, Groff told Signorile, "You know, we just put strap on those anal covers and go to town, like we always do!" Of the ins and outs of navigating a sex scene, Groff added,
"So, when you first get there and you take off the robes and you're in your weird little dick sock and your anal cover, there's usually some, like, laughter," he explained. "And then we sort of talk about what is happening in the scene. And we sort of do a rehearsal with our shorts on or whatever. And then we do it. I find [sex scenes] really fun and enjoyable and funny and weird and hilarious and a great opportunity to share a lot about characters. And there's no words, so it's an interesting thing to act. But I've never done a sex scene with someone who smells bad or I didn't like something about them. That would be terrible. That's the benefit I've had. I've never done a sex scene with someone that has not been so respectful and great about smelling fine and making it as palatable as possible."
As for what this intense sex scene will look like (and who it's with), Groff would only say, "Patrick has had a lot of sexual hang-ups. And now he doesn't." Such a tease.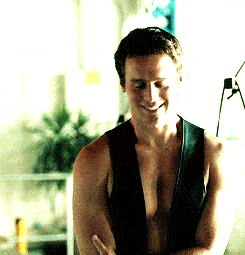 In the interview, Groff also spoke about recently meeting Beyonce and Jay Z after a performance of the Broadway show Hamilton, in which he plays King George III, and Beyonce's remark that she wanted to steal his walk:
"I was just so excited that she and Jay-Z were even in the audience. She spoke very specifically to everybody about their performances and things that she noticed, and whatever, and she specifically talked about this walk that I do when I walk out onstage, and [she] imitated it. And then she talked about this exit move I do. And what was amazing about it was just knowing that Beyonce is watching. It makes sense because she's Beyonce, and like, she's incredible, to put it mildly. And just to know that she's watching with such careful — she's really watching."
Listen to Jonathan Groff's interview, below:
[soundcloud url="https://api.soundcloud.com/tracks/236807899″ params="auto_play=false&hide_related=false&show_comments=true&show_user=true&show_reposts=false&visual=true" width="100%" height="450″ iframe="true" /]