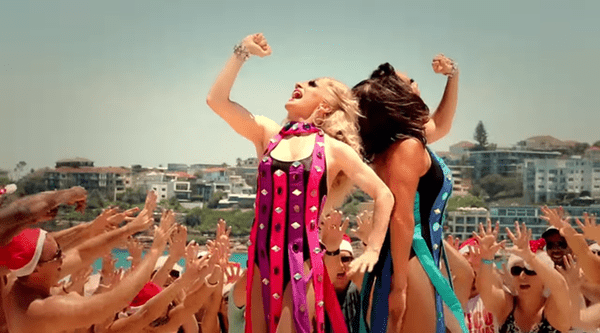 Two drag queens led a giant flashmob at Sydney's Bondi Beach on Saturday in a lip sync of Kylie Minogue and Dannii Minogue's current Christmas tune, "100 Degrees."
The song is all about celebrating Christmas no matter where you are, whether you're surrounded by snow or whether it's "100 Degrees": "Whether the sun beats down / Or there's a storm around / Whether the snow falls or / It's 100 degrees / It's still Christmas to me."
The flashmob performance was apropos given the heatwave Australians are currently enduring.
Thousands flocked to Sydney's iconic Bondi Beach on Saturday to escape the searing heat, but were instead treated to a Christmas flash mob –  hosted by two gloriously confident drag queens.
Dancing to the tune of Kylie and Dannii Minogue's latest single '100 degrees,' bare-chested men and bikini-clad women wearing Santa hats grooved on the sand in perfect unison.
A huge crowd soon gathered from the railings above to the ocean behind to catch a glimpse of the hilarious disco performance.
Watch video of the Kylie Minogue flashmob below.