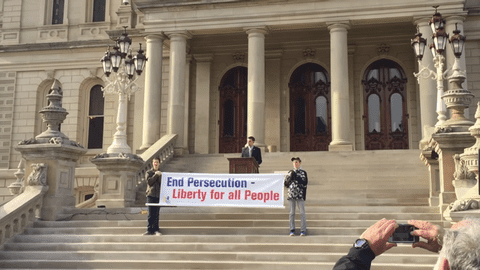 Two Michigan lawmakers are putting forth resolutions urging the Great Lakes State to ignore the Supreme Court's ruling on same-sex marriage.
One resolution, introduced by State Rep. Tom Hooker, calls the Obergefell ruling "illegitimate" and calls on state officials to "re-claim the state's sovereignty by not recognizing or enforcing" it.
Hooker spoke at a "religious freedom" rally at the state Capitol on Wednesday billed as a "rally to protect religious people and stop persecution of religious people." He read his resolution aloud to the crowd.
"The Supreme Court is not a Legislature," Hooker said. "Courts do not substitute their social and economic beliefs for the judgement of legislative bodies or elected and passed laws."
The rally, organized by a Christian non-profit called Salt & Light Global, drew a couple hundred people to Lansing.
As RWW points out, Hooker's resolution reads in part:
Resolved by the House of Representatives (the Senate concurring), That it is the sense of the Michigan Legislature that the United States Supreme Court's decision in Obergefell v. Hodges is illegitimate because the five justice majority, in reaching its decision, acted without constitutional authority and unconstitutionally usurped power expressly reserved by the United States Constitution to the states and the people; and be it further
Resolved, That under these circumstances, it is the duty of the politically accountable branches of the federal and state governments to preserve and protect constitutional governance under the rule of law; and be it further
Resolved, That we urge the Governor and all executive officers in the state of Michigan to uphold their oaths of office and re-claim this state's sovereignty by not recognizing or enforcing the United States Supreme Court's Obergefell decision as a rule of law …
Also speaking at the event was Rep. Lee Chatfield, who said he would co-sponsor Hooker's resolution:
"Make no mistake, when government destroys God, government becomes God," said Chatfield, whose father is a Christian minister. "And that should be a frightening thing for the United States of America and the state of Michigan."
Chatfield added,
"We have a constitution that is telling us what the constitution says. Now historically, the constitution regulated the Supreme Court. But right now, we have a Supreme Court that's regulating the constitution."
Sen. Patrick Colbeck said he would introduce a similar resolution in the state Senate. Also speaking at the rally, Colbeck compared the "religious persecution" allegedly being endured by the religious right to religious persecution endured by Christians in China and those suffering under the yoke of extremist groups like Boko Haram and ISIS.
Colbeck also bemoaned the Supreme Court's 'making laws' "despite the fact that all, I'll emphasize that again, all legislative authority rests solely with Congress." He then complained that Chick-fil-a had been "attacked" because its COO "expressed his belief that marriage is between a man and a woman."
MI Live reports that such proposed resolutions would have no actual power.  In other words, this is all bluster:
"The non-binding resolution, if adopted, would do little to change policy in Michigan, where Republican Gov. Rick Snyder and Attorney General Bill Schuette have both said the state must recognize and enforce the Supreme Court ruling, which is the law of the land."
Watch Rep. Chatfield and Sen. Colbeck speak at the rally, below: