OLD HOLLYWOOD. Art exhibition celebrates queer stars of Hollywood's Golden Age who took refuge at the Garden of Alla Hotel owned by former silent film star Alla Nazimova.
RIP. German man dies on Christmas day trying to rob a condom dispensing machine with a homemade bomb.
JESUS IS MAGIC. Sarah Silverman reveals new details about Jesus. 'Outrage' ensues.
MERRY CHRISTMAS! Jesus was gender fluid!
❤️❤️❤️❤️❤️

— Sarah Silverman (@SarahKSilverman) December 25, 2015
TAMIR RICE. Timothy Loehmann, the police officer who shot and killed 12-year-old Tamir Rice in Cleveland last year, will not face face charges. Rice was playing with a toy gun when he was shot.
MALE MODEL MONDAY. Meet Alejandro Quesada.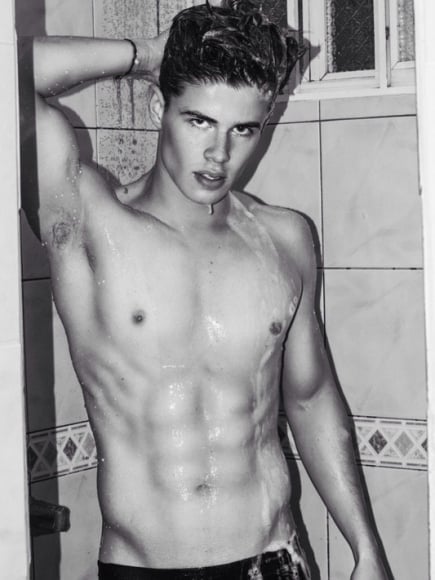 TELEVISION. Orphan Black season 4 will see Tatiana Maslany play another clone. 
RIGHT WING. Republicans upset with Paul Ryan for "trillion-dollar spending deal with Democrats" take to Twitter and call his beard a "Muslim beard." Ryan reportedly told President Obama about it:  "As Ryan and Obama were putting the final touches on the spending deal, the now-bearded Speaker told the president that some on the right have accused him of being a Muslim, Al Hunt recounted in a Bloomberg View column. 'The president, who has long faced the same absurd allegation, chuckled,' Hunt wrote."
FIRST LOOK. Benedict Cumberbatch is Marvel's Doctor Strange on the cover of EW.
ANIMAL LOVE. Apparently, Sarah McLachlan can't stand to watch her ASPCA ads either. 
TASTE THE RAINBOW. Rainbows know where President Obama is at all times. 
That white tent is where President Obama is staying. Yes a rainbow is going to his house #whitehouse #obama #kailua pic.twitter.com/zeC62VgJYu

— James Riley (@thejamesriley) December 27, 2015
INTERNATIONAL. Iraqi troops advance into ISIS-held city of Ramadi: "Iraqi forces backed by U.S.-led airstrikes drove Islamic State militants out of the center of Ramadi on Monday and seized the main government complex there, according to military officials, who said insurgents are still dug into pockets of the city west of Baghdad. Ramadi, the provincial capital of the sprawling Anbar province, fell to IS in May, marking a major setback for Iraqi forces and the U.S.-led campaign. Ramadi and nearby Fallujah, which is controlled by IS, saw some of the heaviest fighting of the eight-year U.S. intervention in Iraq."
NATURE. Giant Squid spotted in Japanese harbor on Christmas Eve.
It isn't every day that a giant mystery creature from the deep sea swims into plain sight 👀 https://t.co/iFGKMtPmKB pic.twitter.com/zk3W0hDbFO

— CNN (@CNN) December 28, 2015
GENERAL ELECTION. New poll finds Hillary Clinton and Donald Trump in a dead heat should they face-off in the general: "When 1000 likely voters nation-wide were asked who they would support if the presidential election were held today, 37 percent said Clinton while 36 percent said Trump, according to the Rasmussen Reports telephone survey. The poll's margin of error is 3 percentage points meaning Clinton and Trump are in a statistical dead heat."
STEVE GRAND. Celebrated "3.5 weeks of sobriety (with a few exceptions)" with "douchey, post-gym selfie."
https://instagram.com/p/_1CqQbM0w-/?taken-by=stevegrandmusic