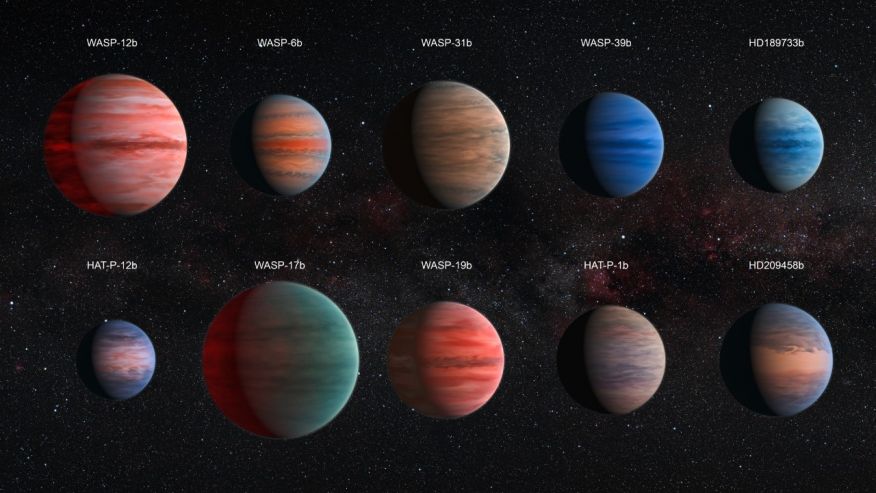 SPACE. NASA scientists discover that several Jupiter-sized exoplanets previously thought to be dry in fact contain water: "'Our results suggest it's simply clouds hiding the water from prying eyes, and therefore rule out dry hot Jupiters,' Jonathan Fortney of the University of California, Santa Cruz and a co-author on a paper published. 'The alternative theory to this is that planets form in an environment deprived of water, but this would require us to completely rethink our current theories of how planets are born.' The University of Deleware's John Gizis, who studies brown dwarfs, a kind of 'failed star' that evolve similarly to Jupiter-like gas giant planets and did not take part in the study, called the findings 'a real breakthrough.'"
COSBY. Bill Cosby countersues 7 women who accused him of drugging and raping them, alleging they were out to defame Cosby's reputation and profit along the way: "Each Counterclaim Defendant induced both NBC and Netflix to postpone or cancel their contracts with Mr. Cosby by engaging in a campaign to assassinate Mr. Cosby's reputation and character by willfully, maliciously, and falsely accusing Mr. Cosby of multi decade-old purported sexual misconduct in an opportunistic attempt to extract financial gain from their allegations."
POLLS. Hillary Clinton comes out on top in head-to-head polls pitting her against current Republican front-runners Donald Trump and Ted Cruz. 
TRANS. If passed, a California bathroom "privacy" measure could mean that vigilante "bathroom police" could collect $4,000 for catching a transgender person using the so-called 'wrong' bathroom: "It really is a huge invasion of privacy for the entire public…What this would result in, essentially, is bathroom police. There's a $4,000 bounty on catching someone, so it gives incentives to people to self-monitor bathrooms and accost people who are coming out and allows individuals to make subjective determinations about whether someone looks adequately masculine or feminine."
MUSIC. Adele announces North American tour dates for 2016.
SNL. George W. Bush is running for President again: "You gotta admit it's a pretty good plot twist that I turned out to be the smart one."
https://www.youtube.com/watch?v=NKXGA-AU50w
GOP. Republican establishment says President Obama is to blame for Donald Trump because President Obama is to blame for everything.
BROADWAY BOUND. Josh Groban will make his debut on The Great White Way in the upcoming musical Natasha, Pierre, & the Great Comet of 1812: "The musical is an adaptation of a 70-page section of the classic novel War and Peace."
HYPOCRISY. Finnish member of Parliament Markku Rossi registers his same-sex partnership this past weekend. Rossi previously voted against a gender-neutral marriage last year. Rossi says he does not regret that vote: "The gender-neutral Marriage Act was ratified by Parliament in November 2014 by a vote of 105-92. Voting against it were all the Christian Democrat MPs as well as nearly all members of the Finns Party and the Centre Party, including Rossi. 'I would still vote the same way,' Rossi told Yle on Monday. Rossi says he considered the campaign for same-sex marriage as 'understandable'. However he said he did not approve of the law because the classical term 'marriage' would not be associated with church weddings."
TERROR. President Obama says hitting ISIS is "harder than ever": "Speaking at the Pentagon after a briefing from his national security team, Obama noted that Islamic State had not waged a "single successful major offensive operation" since 2014 in either of the countries where it holds territory, losing up to 40% of its footprint in Iraq and thousands of square miles in Syria. In November, the U.S. dropped more bombs on Islamic State targets than in any other month, while U.S. forces working with local partners have taken out senior leaders of the extremist group, also called ISIL or ISIS."
MEN. Juncu Bogdan is your male model this Monday.