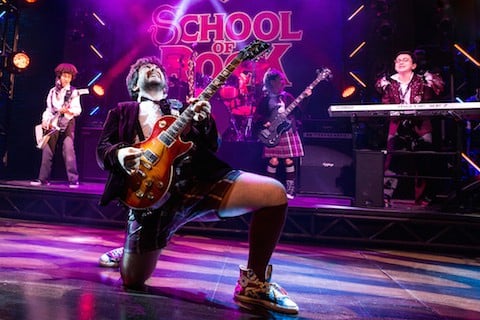 Maybe you played second trombone, badly (guilty). Or maybe you stood out as the star of your school play. But even most grownups still have nothing on the badass kids dominating the stage of Broadway's Winter Garden Theatre, where School of Rock, a new musical based on the 2003 film, opened last night.
Between their musical prowess (a preshow announcement confirms they're actually playing their instruments), thrashing dance moves, and spectacular charm, the show's young stars (who range from ages 9 to 14) are living the dream, and it's both heartwarming and thrilling to watch.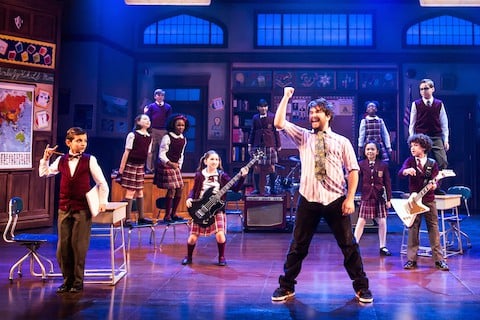 Fortunately, their near omnipresence distracts from the Andrew Lloyd Webber-ness of it all — a uniformly unoriginal score sung at high decibels (nearly everyone onstage wears a headset mic at all times), a disregard for subtlety (of which Richard Linklater's film has an impressive amount, no surprise), and of course, extra cheese.
With music by Mr. Lloyd Webber, lyrics by Glenn Slater, and book by Julian Fellowes, the stage show follows the plot of the movie (with pieces of Mike White's screenplay intact): Dewey (played with high stamina by Alex Brightman) is a washed-up rocker behind on rent. He intercepts a call meant for his best friend/ roommate/ former bandmate, who's now a substitute teacher. It's a high-paying job offer at a prep school, so Dewey pretends to be his pal and accepts the gig. There, he teaches his students to rock and they go on to compete in a battle of the bands.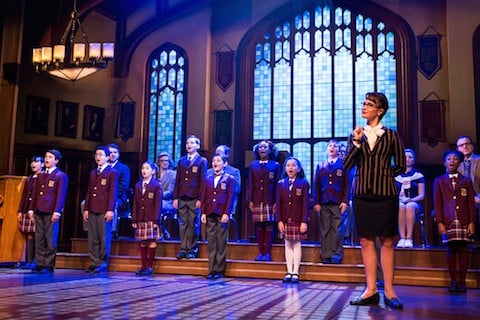 This being a musical of Lloyd Webber proportions, the volume is turned up on more than just the vocals. Though the movie's star, Jack Black, is known for being over the top, his performance is downright understated compared to the Dewey we meet here, who's much closer to being a total f–k up. And the tight-laced school principal (played by Sierra Boggess) is far more of a spaz than Joan Cusack's character on-screen.
The show, directed by Laurence Connor, makes some other additions to the story as well, like an eventual romance between Dewey and his employer, a number about the kids' parents not listening to them, and a couple of stereotypical gay dads for good measure.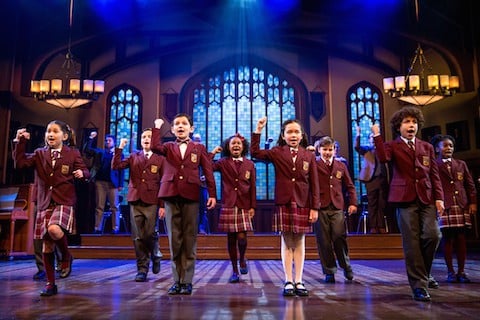 For all its amplification, the musical shines when it's in the little hands of the preternatural kid wonders who play, and sing, and hand-bang their way into your heart. By turns precocious and shy, insecure and sassy, smart and loving — they're stand-ins for all of us, still learning to rock out a bit more with each day. If our future is in their hands, we're all gonna be just fine.
Recent theatre features…
George Takei Talks Racism, Coming Out, and Fulfilling His Life's Mission on Broadway: INTERVIEW
Bruce Willis and Laurie Metcalf Open in 'Misery' on Broadway: REVIEW
Taylor Mac Talks Gender, Acting, and Groundbreaking New Play, 'Hir' —INTERVIEW
Gloria Estefan Musical 'On Your Feet!' Congas Onto Broadway: REVIEW
The Royal Family Comes to Broadway in 'King Charles III:' REVIEW
Keira Knightley Stars in Stunning Production of 'Thérèse Raquin' on Broadway: REVIEW
Follow Naveen Kumar on Twitter: @Mr_NaveenKumar (photos: matthew murphy)