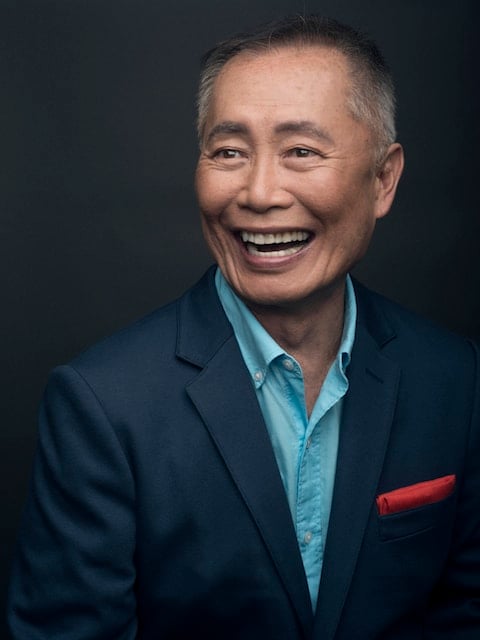 George Takei is a man of many worlds. Since first rising to stardom aboard the Star Trek franchise (for three seasons on the '60s TV show and in six movies), the 78-year-old actor has leveraged his fame into a career that often marries entertainment with political activism. People are listening. Takei has also reinvented himself as something of a social media superstar in recent years, with more than 9 million likes on Facebook and 1.7 million Twitter followers. Now, he's fulfilling his life's mission on Broadway.
Allegiance, a new musical which opened at the Longacre Theatre on November 8, tells the story of the internment of Japanese-Americans during WWII. It's a dark, shameful chapter in American history that Takei and his family lived through first-hand, and one he believes often gets swept under the rug. Takei served as the inspiration for the historical musical and also appears in a starring role, alongside Lea Salonga and Telly Leung.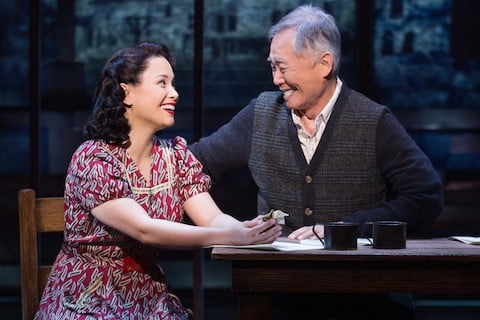 I spoke to Takei about his family's experience being interned, the show's relevance in the wake of xenophobia toward Syrian refugees and zealots like Kim Davis, plus his own experience coming out as a gay man.
Naveen Kumar: How has your experience been, telling a story that's so personal to you?
George Takei: It has been enormously fulfilling; it's been my life mission to raise awareness about the internment of Japanese-Americans. I was a child when we were incarcerated, and when I became a teenager, I started reading civics and history books and I couldn't find anything about my childhood. But I found a lot about the shining ideals of our democracy, and I couldn't reconcile the two together.
I had many, many after-dinner conversations with my father, and he was the one who explained our democracy to me, and the irony is he's the one that suffered the pain of the internment the most. He lost his business, we all lost our home, our freedom, and yet he had faith in the fundamental ideals of our democracy. He said, "It's a people's democracy, and it can be as great as the people can be, but it's also as fallible as people are." He said, "Our democracy is vitally dependent on people who cherish its ideals and actively engage in the process."
So it's been my mission in life, when I discovered that very few people know about that dark chapter of American History, to raise the awareness. Now, to be able to tell that story in an entertaining and engaging way to a mass, popular audience from the Broadway stage has been a great fulfillment.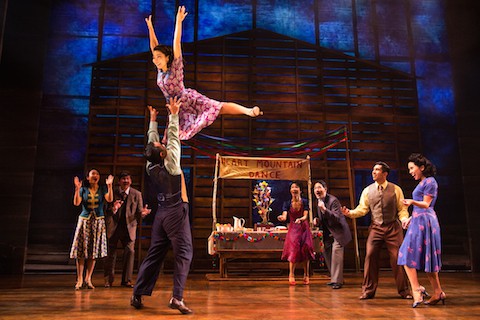 NK: Did you ever imagine that the story would become a musical? What was the genesis of that?
GT: No, I never imagined it to become a musical. But when I met Jay Kuo, our composer-lyricist, and we started talking about doing it as a theatre piece, he introduced the idea. I'm a passionate lover of musical theatre, and my life mission has been to tell the story of the internment to all Americans, because it's an American story, and the violation was an egregious violation of the U.S. constitution. And Jay said to me, the most powerful way to get to a person's emotions as well as the intellect is through music. Of course, being a musical theatre fan, I knew that. It was Jay's savvy and persuasive power that got our story to be a musical.
NK: You were very young, as you said, when your family was interned. Do you have vivid memories of it? How did it shape your childhood afterward?
GT: Well, you know children are amazingly adaptable, even to the most grotesquely abnormal situation. I was 5 years old at the time we were incarcerated and almost 9 when we came out. So, living behind those barbed-wire fences became routine; the fences became part of the landscape. And it became normality to line up three times a day to eat lousy food in a noisy mess hall, or to go to a mass shower together with my father, and go to school in the black tarp of a barrack, and start the school day with the "Pledge of Allegiance" to the flag. I could see the barbed-wire fence and the century tower right outside my schoolhouse window as I recited the words, "With liberty and justice for all."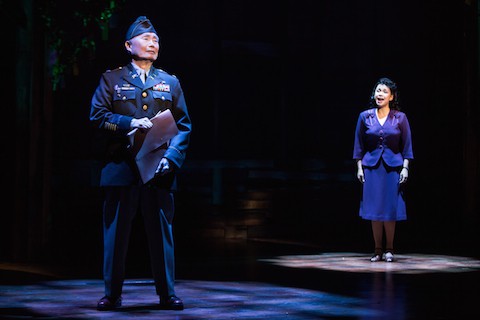 But when the war ended and we were released, we lost everything. They gave us a one-way ticket to wherever in the United States we wanted to go, plus $25 each. So when we came back to Los Angeles, our first home was on Skid Row. To both me and my siblings, a brother a year younger and a baby sister who wasn't even a year old when we were taken to the internment camps — that's all she knew, her whole life was shaped by the internment camp. So coming home, in quotes, was the most terrifying part of our growing up.
In fact, one day we were walking down the sidewalk, and this derelict came right toward us, staggering, and we were just petrified. We just stopped and froze, and then he collapsed right in front of us and barfed, and my baby sister screamed, "Mama, let's go back home!" meaning go home behind barbed-wire fences, because that became home for us, and Skid Row was terrifying.
That really gave me an understanding of what internment meant — to be penniless and to be living like that. I saw how hard my parents worked their fingers to the bones to get back on their feet, and that was a life-shaping experience, coming home.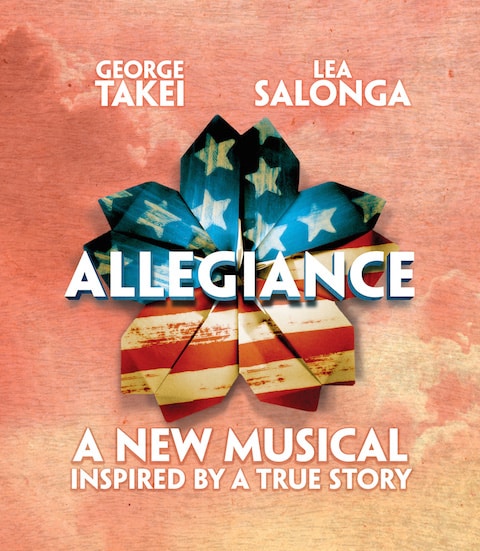 NK: Has performing in the musical and sharing and reliving the story changed your feelings about it, or helped you sort of process it in a different way?
GT: Absolutely. And you know it's so timely, because just yesterday [November 18] the mayor of Roanoke, Virginia, David Bowers, made the outrageous statement that he's not going to accept any Syrian refugees into his city, and he would not spend a cent of public money for any kind of benefit to refugees coming in because they're terrorists. Then he used the internment of Japanese-Americans to justify his position. It was so outrageous.
First of all, this man is ignorant. He's one of the reasons we're doing Allegiance on Broadway; he's one of the reasons why I go on nationwide speaking tours. He said FDR imprisoned Japanese nationals because we needed to protect our national security against untrustworthy Japanese. We weren't Japanese nationals; we were Americans, Japanese-Americans. My mother was born in Sacramento, California, my father was a San Franciscan, my siblings and I were born in Los Angeles — we're Americans. And he didn't even know that, that we incarcerated American citizens with no charges, with no due process, and he used that to justify his outrageous position on Syrian refugees coming to the United States. Absolutely no compassion.
I've been flooded with email responses [from my Facebook post], saying, "I live in Roanoke, and this man doesn't speak of us, he's an outrage. David Bowers is an embarrassment." So that underscores the importance of the story we're telling from the Broadway stage with Allegiance. This outrageously uninformed, racist, and hysterical man, a so-called political leader, is speaking as an American. That's how shameful some of our elected leaders are. He doesn't know our own American history.
Broadway is relevant; Broadway is an important platform. I extended an invitation to him as my guest to come to New York and see Allegiance on Broadway. We'll see how he responds to that.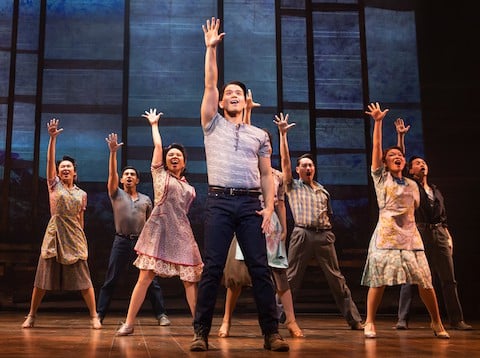 NK: What was your experience like coming out to your family? Were they very conservative?
GT: Well, it was difficult for my mother; my father had passed by that time. But I like to think, because my father was such an enlightened person and he really knew me and loved me, I'd like to think had my father been alive at the time, he would have embraced me. But for my mother, she wanted to have grandchildren from me, and so it was a little bit difficult. But the thing is, she knew Brad, who's my husband now, before as my buddy. So it wasn't a concept, being gay. She knew the person that I loved, so that tempered her response. Initially, it was a shock to her that I would not be married to a woman.
NK: Did you think about incorporating a gay story line into the show?
GT: It's all part and parcel of the same thing. Here's this ignorant Mayor Bowers, and this city clerk in Kentucky, Kim Davis. Her position, trying to use her public office to impose her religion on this nation of diverse faiths — it's the same kind of stone-headed thinking.
Now, on the LGBT issue, we are making progress. This year is a momentous year, 2015, when the Supreme Court of the United States ruled that we have marriage equality from border to border, from ocean to ocean. It's an amazing world that we're living in when we have this history of bigotry and ignorance toward LGBT people, and now we're making this kind of progress. In 2015, we're able to tell the story of the incarceration of Japanese-Americans with no charges into barbed-wire prison camps, and tell that story from Broadway. It's part and parcel of the same thing.
Recent theatre features…
Bruce Willis and Laurie Metcalf Open in 'Misery' on Broadway: REVIEW
Taylor Mac Talks Gender, Acting, and Groundbreaking New Play, 'Hir' —INTERVIEW
Gloria Estefan Musical 'On Your Feet!' Congas Onto Broadway: REVIEW
The Royal Family Comes to Broadway in 'King Charles III:' REVIEW
Keira Knightley Stars in Stunning Production of 'Thérèse Raquin' on Broadway: REVIEW
Follow Naveen Kumar on Twitter: @Mr_NaveenKumar (headshot: luke fontana; allegiance: matthew murphy)