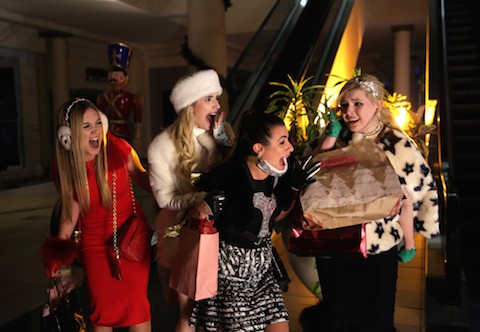 If Ryan Murphy has taught us anything about his television programs, it's to expect the unexpected. That's why I'm taking the twists and turns and character flip-flopping in last night's penultimate installment of Scream Queens with a gigantic mountain of salt.
The body count was not super high, but the tension sure was. As we head into next week's two-hour finale, we'll finally see which of our surviving characters is the other Red Devil.
Find out what we learned last night in our SPOILER-filled recap, below.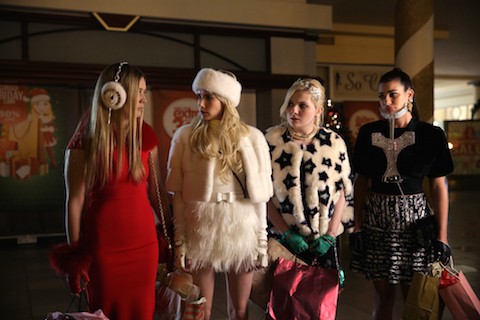 Chanel No. 1 (Emma Roberts) and I have very different feelings about Black Friday, but for very similar reasons. I would rather pay double than face that kind of "hippo stampede" while full of too much red wine, carbs and tryptophan. It's those hordes of discount-crazed consumers that Chanel loves, and she relishes the opportunity to mock and torment them. She also uses Black Friday as an opportunity to stock up on cheap garbage gifts for her friends. It makes them question their status in her life and thus makes them more easily manipulated.
She drags the other Chanels to the mall, only to find themselves the last shoppers remaining when the lights go dark. They realize they're locked inside and, what do you know? They're not alone.
The Red Devil appears brandishing a crossbow. Chanel No. 1's minions escape under a conveniently open security gate, but the KKT co-pres stays behind. The Red Devil shoots her in the shoulder, but before he can finish her off, the new Chief of Police, Denise Hemphill (Niecy Nash), shows up with backup. While she's explaining how she got the job, the Red Devil fires an arrow at one of her fellow officers and escapes.
Back at the Kappa house, the Chanels agree that Dean Munsch (Jamie Lee Curtis) is the killer, and their only option is to kill her before she can kill them. Even Grace (Skyler Samuels) is on board with this plan. Zayday (Keke Palmer) has some hesitations, but even though she is KKT co-president, she's overruled.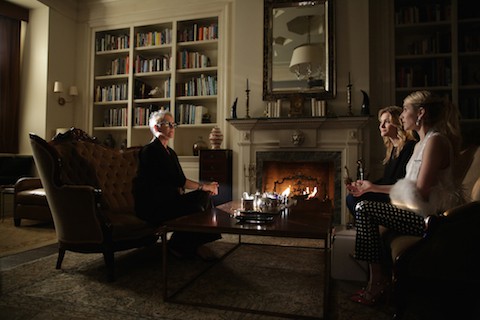 Grace and Chanel No. 1 visit Dean Munsch and convince her they're interested in starting a feminist student association, led by the dean. They bring her apple cider (Dean Munsch's favorite drink, according to her social media profiles) spiked with poison from Chanel No. 6/Hester (Lea Michele)'s pufferfish. Dean Munsch gulps it all down, but it has no effect.
At this point, Pete (Diego Boneta) convinces Grace she's not a murderer, and maybe they don't have enough foolproof evidence that Munsch is the Red Devil to justify homicide. She tries to convince the other girls to abandon the murder plot, but they're not so easily swayed. Even Zayday has come around to the idea. So they vote Grace out of the sorority, which seems like a strange thing to do in this instance, but let's not dwell.
One murder plot thwarted, the remaining Kappa girls attempt to freeze Munsch to death in a cryo-spa. Even though she's in there much too long at much too low a temperature, Munsch survives again.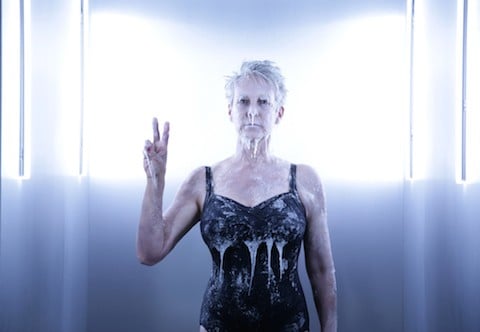 Inspired by Hester's rant about Rasputin, Chanel No. 1 decides they're going to drown Dean Munsch in the campus pool. She'll just signal the rest of the girls when it's time on their brand new (PRODUCT PLUG) Samsung phones. Of course, once she's ready, the Chanels are too busy berating a saleswoman who won't swap the size four tags off Chanel No. 5's panties for an ego-preserving size zero tag, and they all this miss the signal displayed on the edge of their very cool brand new cell phones that also happen to be advertised during commercial breaks.
This just leaves Dean Munsch and Chanel No. 1 alone by the pool for a tense, creepy stand-off. The dean knows more than she's letting on, but walks away without either lady losing their life just yet.
Meanwhile, something's not quite right with Pete. First, he's at the frat house of the Dickie Dollar Scholars for the reading of Boone (Nick Jonas)'s will by Chad Radwell (Glen Powell). Boone left his Xbox, box of lube and bejeweled butt plug to Pete, leading Chad to presume the two were lovers. However, Pete clarifies that Boone was merely his "source" for the exposé he was writing, because, as he often reminds us, he is a very serious investigative reporter.
Chad recalls when Pete once tried to pledge the Dickie Dollar Scholars despite not having any experience golfing, owning zero John Mayer albums and failing to provide evidence of a sick ab workout. These days, there aren't many other DDS boys around, so Chad offers Pete a chance to join. Pete turns it down, which invokes the DDS rule that anyone turning down membership should be challenged to a duel. Pete leaves, but Chad threatens that he will murder him to death.
That's not even the strangest thing to happen to Pete in this week's episode. He's been hanging around with Wes (Oliver Hudson), reviewing his file on Gigi (Nasim Pedrad). They learn that it was Gigi's sister who took the babies from the dead girl in the bathtub after that party. Once the sister killed herself, Gigi (real name Jess Meyer) raised the kids to be murderers to exact revenge for her sister's death.
We also see Pete on a suspicious phone call with someone telling them he feels guilty, this is not who he is and to never call him again. He packs a bag to run off, but when Grace shows up to give him her V-card, he says he can't sleep with her because he doesn't want her first time to be with a murderer!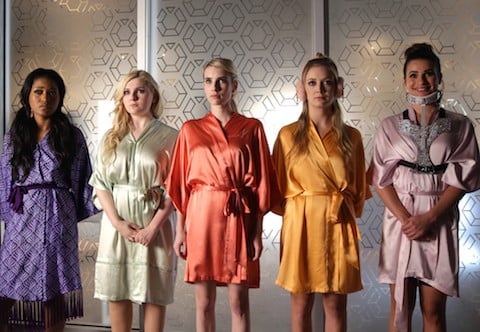 So, is Pete the other Red Devil? I don't think so! I may be (and probably am) very wrong about this, but the whole mall scene struck me as very strange. Chanel gets an arrow that missed all major arteries, resulting in a tiny little shoulder wound. We know the Devils have been training to be killers their whole lives. The Red Devil wouldn't have missed. Also, as Chanel writhed on the ground, it looked like she was waiting for someone specific to show up. Like it was staged. Could she have convinced Pete — the guy that was obsessed with her last year — to put on his Red Devil costume and stage an attack? Maybe she wanted to take this opportunity to put the spotlight on Dean Munsch. Could Pete's suddenly troubled conscience be because he killed that other cop at the mall? Perhaps that wasn't part of the plan and he panicked. Or maybe his murder is completely unrelated to the Red Devil killings. No matter what, I don't think he was working with Boone.
Speaking of Boone, I still do not understand the purpose of making him pretend to be gay. What did that contribute to the revenge plot? And then why go so far as to have him keep a bejeweled butt plug (something I will never get tired of typing) and lube under his bed? It may just be an excuse for Ryan Murphy and company to make bejeweled butt plug jokes, but it's not sitting right with me.
So who is our remaining killer? There are theories of it being the Candle Vlogger (Breezy Eslin) or Chanel No. 2 (Ariana Grande), but I don't think either of those work. I think dead is dead for those guys. Yes, Boone faked his death, but we never saw him actually get attacked, unlike the two aforementioned ladies.
Pete and Dean Munsch may end up being killers, but I feel like neither of them are Red Devils. (How the dean survived is still a mystery. My guess is that she has someone on the inside — Chanel No. 3 or No. 5 — and she had some intel about Chanel No. 1's plots.) The Chanels all certainly have some manner of blood on their hands for one reason or another, but I don't think the Red Devil is No. 1, 3 or 5.
That leaves Zayday, Grace, and Hester. (There are plenty of logical reasons why we should rule out Zayday, but logic is never paramount on a Ryan Murphy show, so I'm not letting that stop me.) There's still something fishy about Wes as well, so I wouldn't be surprised if he ended up part of all this.
In fact, the more I think about it, the more I feel like we're spiraling toward a Clue-like ending. Some of these murders were revenge-motivated by the Red Devil killers. Some of them were committed by other characters using the Red Devil scare as a convenient opportunity to knock off some of their rivals (just like we saw Munsch do). I also wouldn't be surprised if, in the end, someone will be revealed to be a plant all along for a larger purpose. (Maybe Denise is really an FBI agent, or Pete really is an undercover reporter for The Washington Post.) Very few things would shock me at this point.
What do you think will happen in next week's two-hour season finale?