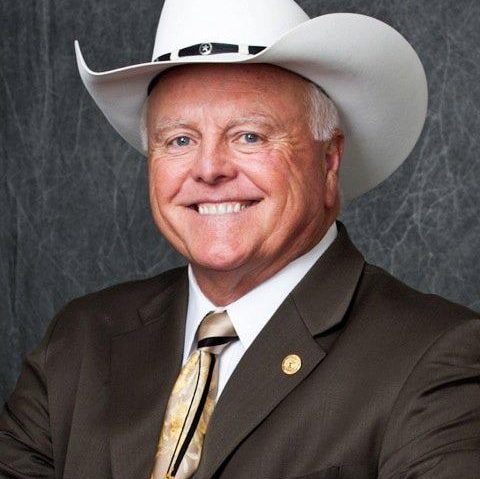 One bigoted Texas official just took his war against the "war on Christmas" to another level.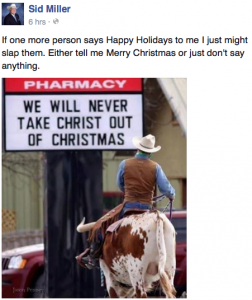 In a Facebook post Wednesday, Republican Agriculture Commissioner Sid Miller threatened violence against anyone who wishes him "Happy Holidays."
"If one more person says Happy Holidays to me I just might slap them," Miller wrote. "Either tell me Merry Christmas or just don't say anything."
Miller is well known for inflammatory Facebook posts. He's previously advocated dropping an atom bomb on "the Muslim world" and compared Syrian refugees to rattlesnakes.
He's also known as an anti-gay bigot. In response to "Duck Dynasty" star Phil Robertson's anti-gay tirade in 2013, Miller wrote:
Phil Robertson has every right to express his personal opinions about his Christian faith and against the homosexual lifestyle. I defend his right to do so and I stand with him 100%.
For a television network to cater to and then run scared of the radical gay community is a shame and a disgrace. It demonstrates just what the liberal-left agenda is going to do to our country – rot it from the inside out by killing off American values.
Not surprisingly, Miller is getting trolled heavily for his "Happy Holidays" post:
I keep waiting for @MillerForTexas to slap me but I guess he's all hat and no cattle. pic.twitter.com/WY9im3D03q

— Harold Cook (@HCookAustin) December 16, 2015
Seriously – does @MillerForTexas ever do anything even remotely related to agriculture? Or that isn't laced with hate?

— Blue Heron Farm (@BlueHeronFarmTX) December 16, 2015
Happy Holidays, @MillerForTexas. #txlege Send your Holiday wishes to Sid here https://t.co/XTS1QPLGc6 pic.twitter.com/w7CCpMR4xo

— Texas Democrats (@TXDemParty) December 16, 2015