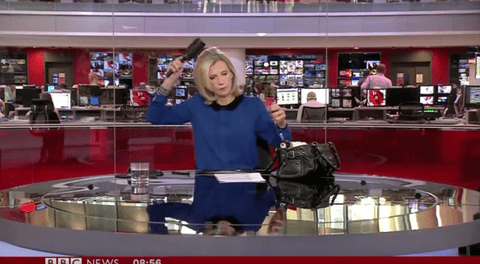 2015 was another glorious year for news bloopers and now you can relive the year's best fails in one video.
NewsBeFunny today posted their annual mega-mash-up of the year's best news bloopers filled with plenty of LOL-worthy moments to enjoy. From a sports reporter talking about holding 8 inches of shaft in your hand, BBC's Carol Walker being caught unawares doing some commercial break primping, WWAY's Chris Brown cracking up over fishing, a Fox reporter losing it over the Kardashians, or to Bill Murray falling out of his chair on The Last Word with Lawrence O'Donnell, this video has it all.
There's also an adorable dog named Griffy who has a relentless desire to play, and who also seems to live in the green screen weather room of a news station.
Watch all the best news bloopers from 2015, below:
https://www.youtube.com/watch?v=JRqieDyEnOg