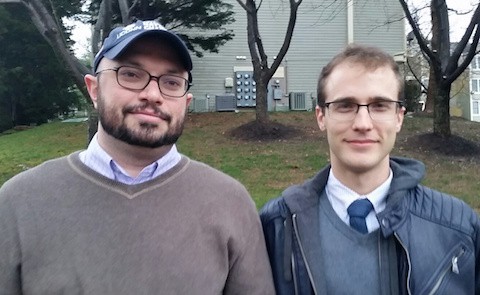 A former music minister joined a group of LGBT Catholics Sunday to protest his firing from a Maryland Church because he is married to another man.
Jeffrey Higgins was terminated in November from Mother Seton Catholic Church in Germantown after a pastor learned of his marriage. Higgins, along with LGBT Catholic group Dignity USA, says he was discriminated against.
The Archdiocese of Washington said in a statement Higgins wasn't fired for "his sexual preference," but because his marriage was a public violation of the church's teaching.
"If someone chooses to live, publicly, in a manner that is incompatible with church teaching, their continued work in ministry becomes untenable," the statement read.
Higgins is one of several LGBT Catholics who has been fired by the Catholic Church for being married, including Margie Winters, who was terminated from her job at a Philadelphia Catholic school, and John Murphy, a Virginia man who lost his job for being married to his partner of 30 years.
"They seem to have picked people who are gay and who get married as the dividing line. It's unfortunate," Allen Rose, a board member of Dignity USA, told WTOP.
The Archbishop of Washington, Cardinal Donal Wuerl, underscored this particular issue on a blog post regarding Higgins' termination:
"If one persists or effectively insists that they are right and the Church is wrong, in the face of such irreconcilable differences it is not discrimination or punishment to say that continued ministerial service is not possible. It is not a question of personal private activity, but the social consequences of conduct which undermines the Church's ability to fulfill her mission."
[Top photo via WTOP]