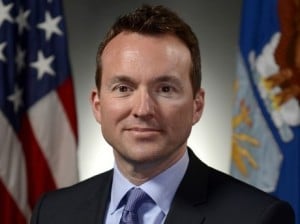 The nation's first openly gay nominee for the Secretary of the Army has stepped aside from his post as acting army secretary because the GOP-controlled senate has failed to confirm him since President Obama nominated him in September.
Eric Fanning (above) served in several positions in the Pentagon during President Obama's administration before being nominated for the army's top job.
The Army's undersecretary, Patrick Murphy, was confirmed last week, so he will oversee the Army. Fanning is expected to step down and move into another Pentagon post for now. He would return to the Army leadership position if his nomination is approved.
Fanning's stepping aside is said to only be temporary, as he hopes the Senate will ultimately confirm him. Fanning's confirmation has been held up by one Republican in particular, Senator Pat Roberts of Kansas:
In early November, Sen. Pat Roberts, R-Kan., placed a hold on Fanning's nomination as a protest over Obama's ongoing campaign to close the Guantanamo Bay, Cuba, detention facility and transfer detainees to the United States. The move was part of an effort to prevent the White House from taking executive action to close the facility. […]
Fanning had been serving as acting undersecretary of the Army since June. The previous Army secretary, John McHugh, stepped down late last fall, and Fanning had been serving as acting secretary since then.
Pentagon press secretary Peter Cook said in a written statement that Fanning agreed to step aside "as a show of comity" with the Senate and "to focus on achieving confirmation in the near future."