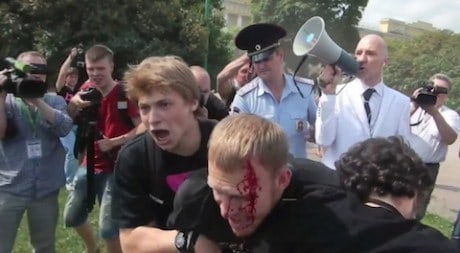 A proposed bill set to be considered by Russia's parliament would effectively ban individuals from coming out as gay or publicly displaying same-sex affection.
The bill is being described as the most significant piece of anti-gay legislation since 2013's "gay propaganda" law which banned LGBT Russians from "promoting non-traditional sexual relationships" to minors. That bill was unanimously approved by the Russian parliament, the Duma, and signed by President Vladimir Putin.
If enacted, this latest law would penalize "the public expression of non-traditional sexual relations, manifested in a public demonstration of personal perverted sexual preferences in public places." Such an expression could receive a maximum fine of approximately $65 US and detention up to 15 days if the act occurred in a school or "cultural institution."
First proposed in October, the bill will gets its first reading before the Duma on January 22, a fact that has many LGBT rights activists worried.
"When this draft bill was initiated, it was so incredibly absurd that we were hoping it was going to be one of those initiatives that didn't get any attention," Polina Andrianova of the St. Petersburg LGBT rights organization Coming Out told BuzzFeed News in a phone interview. "But the fact that it's scheduled for the first reading is a pretty bad sign."
The bill was authored by members of Russia's communist party, and one of its sponsors, Ivan Nikitchuk, spoke to Russian media on why he's backing the bill. Via The Daily Gazette: 
"So what is supposed to happen?" Daniil Turovsky, a journalist for the Russian-language news site Meduza, asked Nikitchuk in an interview published Thursday. "People are walking down the street, holding hands or kissing. The police walk up and detain them?"
"Naturally," Nikitchuk replied. "That is exactly what is supposed to happen."
"This bill does not forbid doing 'that'," he said in the interview. "Let them do whatever they want under the covers."
"But we are stopping them from exhibiting their demonic desires, which the West would force on us …" he continued. "Excuse me, this is Russia. We have a country where tradition has always been respected, where people have had and continue to have a conscience, an understanding of shame. And all these kissing bearded men do not evoke anything besides vomit."
He also clarified that the public spaces referred to in the bill would include "anywhere, where you're not alone: the street, the metro, and so forth."
BuzzFeed notes that, in his interview with Meduza, Nikitchuk also lambasted Hillary Clinton's 2011 speech declaring that gay rights are human rights. Said Nikitchuk, "human rights aren't everything!"
"This is getting to be absurd," he told Meduza. "There are people who like to piss on the street in public. Let's go ahead and defend their rights! We've reached the point of absurdity, when it comes to talking about human rights. This is especially true in the West. Just look at what's happening in Cologne!" an apparent reference to allegations of widespread sexual assault against immigrants that took place in the German city on New Year's Eve.
"And all these bearded men kissing is nothing but nauseating," he added, later asking the interviewer with Meduza, "Are you a normal, decent person? Do you start pitching a tent in your pants every time you see another man? So you can shove it into the guy's backside? That kind of thing is okay by you?"
Human Rights Watch's Tanya Cooper condemned the bill on Thursday, saying, "It is hard to exaggerate the sinister absurdity and abusive intent of this bill – it would effectively outlaw being lesbian, gay, bisexual, or transgender (LGBT) and penalize people for expressing their identity, a crucial part of anyone's existence."
Polina Andrianova of LGBT rights organization Coming Out said of the bill, "This will give more of a green light to people who are willing to discriminate [and] to beat people up."