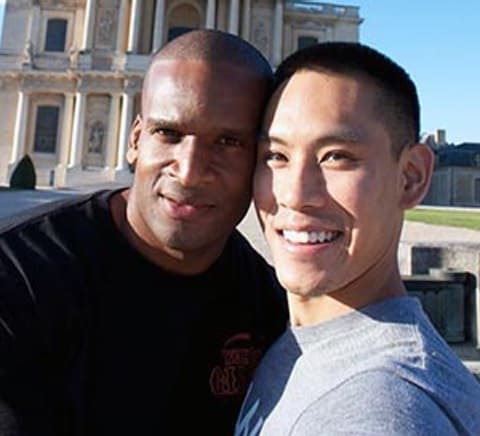 A West Hollywood man has been sentenced to 12 years in prison for the gruesome murder of his boyfriend at the apartment they shared.
Authorities say 38-year-old Andre Davids (above left) killed his boyfriend, 34-year-old Kurtland Ma (above right), in 2014 because he thought Ma was about to break up with him. Davids reportedly stabbed Ma 40 times, disemboweled him, and shoved some of Ma's body organs into his mouth.
Davids was convicted back in December of 2015.
The Los Angeles Superior Court jury deliberated about two days before acquitting Andre Davids of the more serious charge of second-degree murder for the March 29, 2014, stabbing death of Kurtland Ma, a 34-year-old emergency room doctor.
Deputy District Attorney Michele Hanisee called it "absolutely one of the most gruesome crime scenes that I or the homicide detectives have ever seen."
Ma suffered about 40 stab wounds and was "disemboweled," with some of his organs stuffed into his mouth and pill bottles and pills shoved into his body cavity, in a killing motivated by Ma's decision to break up with Davids, the prosecutor said.
Davids admits he killed Ma but his attorneys claim it was a crime of passion. According to Davids, he quarreled with Ma the night of the murder after taking prescription pills. Police say Davids was hiding in the bathroom when they arrived at the scene of the murder, attempting to overdose on pills.
Watch a video of a news report from NBC4 LA below.