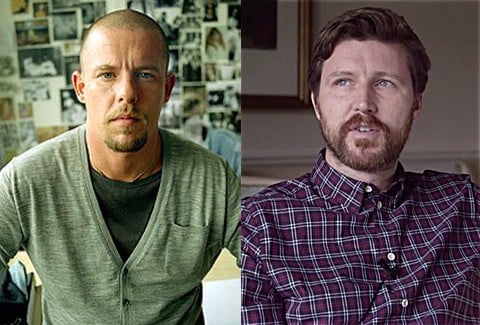 Looking creator Andrew Haigh will direct an upcoming biopic on the brilliant fashion designer Alexander McQueen, who took his own life in February 2010 at the age of 40 shortly after the death of his mother.
The film is being produced by Damian Jones and Pathe (the company behind Matthew Warchus Irish gay drama Pride), according to Deadline:
Red hot playwright Chris Urch, whose latest play The Rolling Stone has just debuted in London to ecstatic reviews, is writing the project. Jones had previously optioned Andrew Wilson's McQueen biography Blood Beneath The Skin, but the film will not be exclusively based on the book; rather it will be part of the research materials available to Urch.
Deadline takes note of McQueen's rather cinematic life story:
His clients eventually included Prince Charles and Mikhael Gorbachev, as he developed a reputation for his immaculate tailoring skills. He would go on to design the wardrobe for David Bowie's 1996-1997 tours, including the Union Jack coat worn by Bowie on the Earthling album cover. As he developed another reputation as the fashion world's enfant terrible, he would go on to become head designer at Givenchy before launching his own self-monikered label. He was famous for his unconventional, highly stylised and theatrical fashion shows.
An inquest shortly after McQueen's death revealed that he had twice tried to committed suicide before finally succeeding and had suffered from "depression, anxiety attacks, insomnia and 'substance misuse'."
The Telegraph added:
The court heard McQueen, the son of an east London cab driver, had started his career on Saville Row before 'climbing to the pinnacle of his profession'. He died the day before his mother's funeral in February after her death left him with 'with nothing to live for', the inquest heard. He hanged himself with his 'favourite brown belt' after taking a cocktail of cocaine, sleeping pills and tranquillisers."
And a final note: "Scrawled on the back of a book called The Descent of Man by London artist, Wolfe von Lenkiewicz, he wrote: 'Look after my dogs. Sorry, I love you, Lee. P.S. Bury me at the church.'"
In other Andrew Haigh news, the finale to the Looking saga wrapped production in December. It's unclear yet when HBO will air it.
Watch an interview with Haigh about his current film, 45 Years, starring Charlotte Rampling (who was nominated for a Best Actress Oscar for her role in the film) and Tom Courtenay, who play a couple whose longterm relationship is in crisis, below: