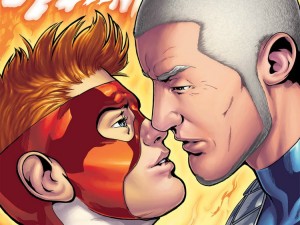 COMICS. You can now pre-order the Kickstarter-funded comic The Young Protectors, "a smart superhero tale featuring a hero who just happens to like other guys."
OUT OF COURT. Caitlyn Jenner settles wrongful death suit brought against her by the stepchildren of the woman who was killed in the Malibu car crash involving Jenner last may. 
FROM WHOLE FOODS TO HIGH FASHION. Ronald Epps may be the hottest former janitor ever. 
DARK MONEY. President Obama said to be mulling executive action targeting Supreme Court's Citizens United ruling: "…the president will attempt to blunt the harmful effects of the Supreme Court's ruling by requiring 'all government contractors to publicly report their contributions to groups that spend money to influence campaigns and elections.' The order would apply to companies with government contracts worth over $100,000, which includes about 70% of businesses on the Fortune 500 list. Companies that refuse disclose their political contributions will not be eligible for government contracts."
TELEVISION. Netflix renews House of Cards for a fifth season.
MARRIAGE. Over two-thirds of Germans favor marriage equality according to a new survey: "Slightly less than a quarter (24 percent) of respondents remained opposed to same-sex couples being given legal equality. With 68 percent in favour, support has grown by around 3 percent on this issue since YouGov last conducted the poll less than 12 months ago."
LATE NIGHT. Sia, Natalie Portman, Jimmy Fallon and The Roots perform "Iko, Iko."
GUNS. Bernie Sanders reverses his position on PLCAA, saying he now supports repealing the law that gave gun manufacturers sweeping immunity against lawsuits.
SUPREME COURT. Following Hillary Clinton's suggestion that she would consider appointing President Obama to the bench of the Supreme Court, White House Press Secretary Josh Earnest says Obama isn't interested: "'My guess is that his aspirations for his post-presidency extend beyond a Supreme Court appointment,' the spokesman said of Obama. Obama, a graduate of Harvard Law who taught constitutional law at the University of Chicago, 'would have plenty of ideas for how he would do a job like that,' Earnest said. But he added Obama would prefer to handle a wider range of issues after he leaves the White House."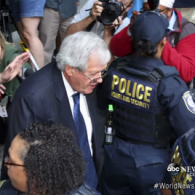 CRIME & PUNISHMENT. Sentencing for Former Speaker of the House Dennis Hastert has been delayed until April. Hastert was convicted for his role in a hush-money scheme to cover up his past sexual misconduct involving a minor: "U.S. District Judge Thomas Durkin pushed back Hastert's original Feb. 29 sentencing date to April 8 due to his health struggles. Hastert's attorney argued the former Speaker is largely immobile following a 'small stroke' in November. 'He nearly died that week,' John Gallo said of Hastert's November hospitalization. 'But for the 24-hour care, he would in a nursing home,' he added, noting that the 74-year-old is still 'lucid' despite his condition.
BLAST FROM THE PAST. More than 1,000 pieces of 10,000 year-old mammoth and bison bones were found underneath Oregon State University's football stadium: "During a reconstruction project, an excavator said he saw what he believed to be a large log or stump, according to Steve Clark, vice president for university relations and marketing at OSU. But when the worker took a closer look, he realized the log was actually a large bone."
WORLD. Man carrying two guns arrested at Disneyland Paris: "The man, reportedly aged 28 and not known to security services, was also discovered with a copy of the Koran and a box of ammunition, police said. His bag triggered metal detectors as he entered the New York Hotel at the much-visited theme park."
ILLINOIS. Disgraced former anti-gay Republican Congressman Aaron Schock owes more than $700,000 in legal debt: "In total, Schock has spent more than $3 million on lawyers since the government's investigation began. Schock, who has been the subject of a grand jury investigation in Springfield, Illinois, has burned through his once hefty campaign war chest. In addition to the roughly half-million dollars in his "Schock for Congress" account, the former congressman has just $73,060 in GOP Generation Y Fund, his leadership PAC."
REAL ESTATE. Gay Facebook co-founder Chris Hughes purchases $23.5 million Manhattan townhouse that includes a "functional tunnel."
GINGER BEARD. Ryan Kinney (aka Big Red) makes Instagram red hot.
https://instagram.com/p/BAGdw0zr_rL/
https://instagram.com/p/-5Q5WEL_ls/