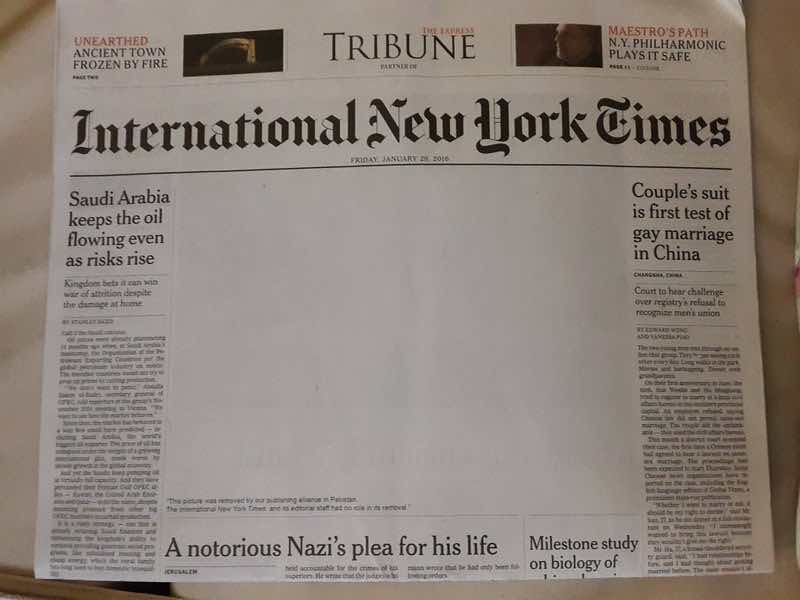 The Pakistani printer of The International New York Times removed a photograph showing a gay kiss from the front page of Friday's paper in what critics are characterizing as a blatant act of censorship.
The story accompanying the removed photo in The Times is on a landmark legal challenge to China's gay marriage ban brought by a gay Chinese couple. The photo still accompanies the story elsewhere in the world and shows one of the two men challenging China's ban kissing his boyfriend on the cheek. Take a look at it, here: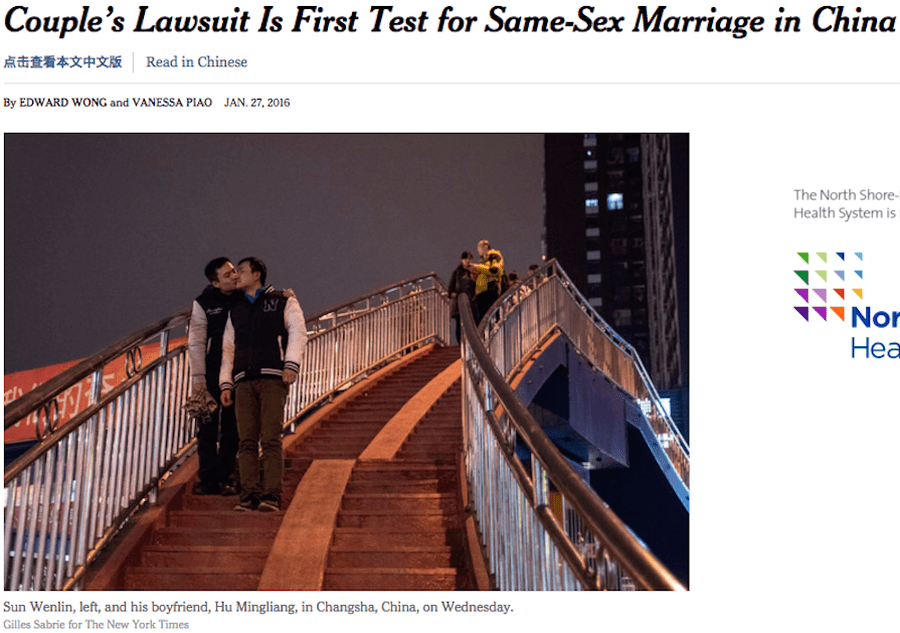 For the second time this month, Pakistan's Express Tribune, which partners with and publishes the international edition of the New York Times locally, censored a front-page article or photograph. Instead of running the photograph, New York Times subscribers in Pakistan woke up to find a huge blank space on their paper.
"This picture was removed by our publishing alliance in Pakistan," a caption stated below the 8-inch by 12-inch blank space. "The International New York Times and its editorial staff had no role in its removal."
Kamal Siddiqi, editor of the Express Tribune, said his newspaper has a long-standing agreement with the New York Times that it can refuse to publish articles or photographs that "may cause problems locally."
"You will not see a picture in Pakistan of men kissing," Siddiqi said. "In fact, you will not see a picture of anyone kissing."
In an email to The New York Times, Siddiqi said,
"I am as much opposed to the censorship as you all are. However, as editor of the Express Tribune, which has over 200 staffers and brings out editions in Karachi, Lahore, Islamabad and Peshawar, I am also mindful of the danger and the lives we can put at risk if we decide to print some of these articles."
Meanwhile, Mic spoke to two Pakistanis about their reaction to the censorship:
"I don't think a censored edition of an international newspaper should exist in the first place — if they have such an issue with some of the content, don't bother printing the rest of it either," one 28-year-old Pakistani woman, who wished to remain anonymous out of concerns she might be targeted, told Mic.
"They seem to do this often. It's not really the New York Times without that front page photo, is it?" she queried. 
However, as evidenced by the decision to censor the picture in the first place, some Pakistanis believed removing the image was the right decision. 
"Well, I agree. I surely do," Farhan Khan Virk, a millennial Muslim social and political activist in Pakistan, told Mic. "There are certain rules in different parts of the world which we don't agree to but we respect. What the world needs to do now is understand that Pakistan is a not secular country. We are governed by a legal framework that adheres to Islamic law. This is the democracy of the people of Pakistan — they chose an Islamic constitution and the world needs to respect that."
"Even if there was a man and woman kissing on the front page they would not have allowed it," Virk added. "Mostly Pakistani people are socially conservative. They are not extremists, they just don't want their children to see such images."
Pakistan has a history of censoring images from The New York Times other than those that are sexually suggestive:
On Jan. 2, the International New York Times' front and second page were left with large blank spaces after printers decided to remove an article on the barbarous murders and attacks on secular bloggers in Bangladesh, who defend human rights through their writing. 
While India separates Bangladesh from Pakistan by more than 1,000 miles, the two were at one time a fractured country, until 1971, then respectively termed East and West Pakistan. They are both Islamic nations and both, in recent years, have endured a rise in religious fundamentalism, which is in part why stories sympathetic to atheist secular bloggers have been suppressed in Pakistan.
[Top photo via Twitter; screengrab via Mic]