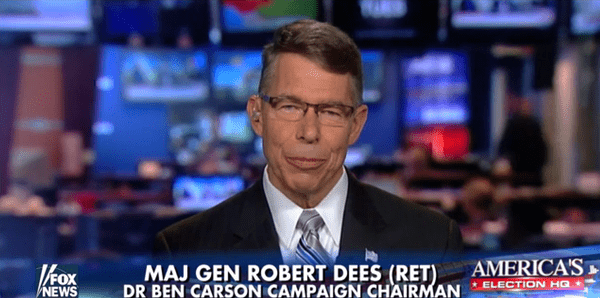 Ben Carson's campaign chair Robert Dees said in a radio interview Thursday that gay men and women in the military have been militaristically flaunting their sexuality since the repeal of Don't Ask, Don't Tell. Dees says this poses a threat to unit cohesion.
Dees was speaking with radio host Alan Colmes (formerly of Fox News' Hannity and Colmes before that show became just Hannity), who pressed Dees on whether Carson would reinstate a ban on gays openly serving in the military if elected president. Earlier this month, Carson said he would consider reinstating such a ban.
Dees is a retired U.S. Army General.
BuzzFeed reports on Dees' response to brining back DADT: 
"Well the ultimate test for military effectiveness is readiness, it's cohesion, and anything that detracts from that is important. Dr. Carson often says it's important for people to have rights in accordance with life, liberty, and the pursuit of happiness in the U.S. Constitution, but no particular group ought to have extra rights."
Pressed on how being able to openly serve, as straight people are, constituted "extra rights," Dees contended that "the gays in the military" can "become somewhat militaristic."
"Where the extra rights come in is when the gays in the military become somewhat militaristic to the detriment of unit cohesion," he said.
Dees added that a question to be considered in determining policy toward gay people in the military was, "whether they, in the military, flaunt it and disrupt cohesion."
Dees was then asked point blank whether he would rather go back to Don't Ask, Don't Tell, to which he replied, "Well, all other soldiers don't go around talking about their sexuality." Colmes pushed back on that assertion, but Dees was unable to elaborate further on his or Carson's position, saying, 
"I think Dr. Carson, you'll find him very loving and supportive of people and different interest groups. But most of all, he recognizes his primary status is to protect the American people. And he will do that to ensure we have proper readiness within the military forces."
Listen to Dees spew his nonsense about "extra rights", below.