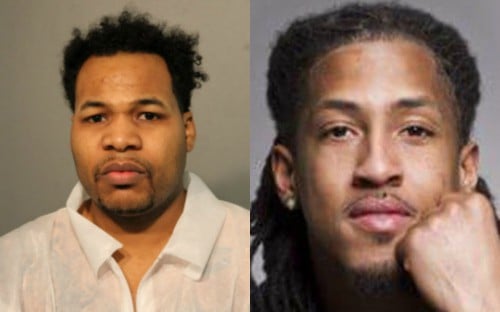 A Chicago-area gay man has been arrested and held on $1 million bail for fatally stabbing his boyfriend to death after a confrontation over allegations of cheating turned violent.
Clifton Hooker, 32 (above left), is charged with the first-degree murder of 26-year-old Alphonso Guinyard (above right), whom he had known for six years and been dating since 2014.
The Chicago Sun Times reports: 
About 8:45 a.m. Sunday, Guinyard visited Hooker at his home in the 3400 block of West Polk to talk about their relationship, prosecutors said. At some point, Guinyard demanded to see Hooker's phone because he believed Hooker was cheating on him.
They began arguing and Hooker told Guinyard to leave, prosecutors said. Guinyard didn't leave and Hooker called 911 to report an "unwanted person" in his home.
After he called 911, the argument escalated into a fight on the first floor, prosecutors said. Hooker left from the fight, went upstairs to the second floor, and got a knife from the kitchen.
Hooker went back downstairs, and when they began fighting again, he stabbed Guinyard in the back, prosecutors said.
Guinyard was pronounced dead at the scene, authorities said.
After stabbing Guinyard, Hooker called 911 and admitted he stabbed Guinyard.