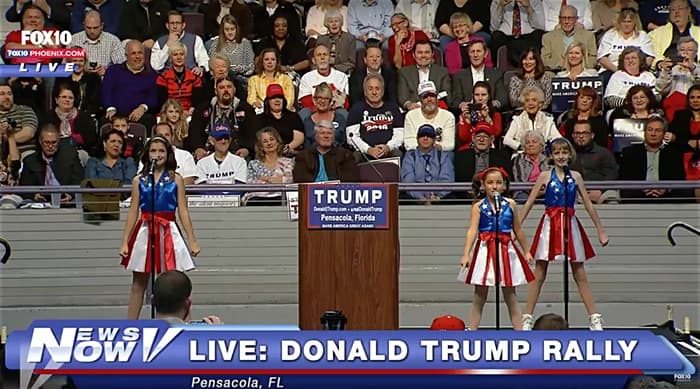 Donald Trump unveiled a new campaign weapon on Wednesday at a rally in Pensacola, Florida: The USA Freedom Kids.
Sing the girls, who are all under the age of 12:
"Cowardice, are you serious? Apologies for freedom — I can't handle this! When freedom rings, answer the call!…On your feet, stand up tall! Freedom's on our shoulders, USA! Enemies of freedom face the music. Come on boys, take them down!"
The group is the brainchild of Trump supporter Jeff Popick, who told Business Insider:
"Donald Trump far and away is the No. 1 guy to protect our freedoms. And we need that because we're coming off the heels of a guy who doesn't even get the concept…I was watching when Donald Trump announced his candidacy, and he talked about the need for a strong military. And I remember him saying that, 'We're going to find the next Gen. George Patton.' When Donald Trump said that, I was inspired to make [the song] even more contemporary than it already was, and make it more about Donald Trump."
Oh, joy.
Watch if you must: