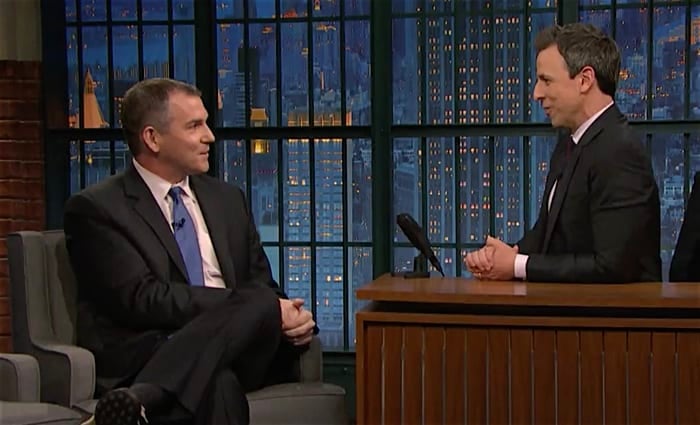 Frank Bruni, the popular (and first openly gay) New York Times op-ed columnist, stopped by Late Night with Seth Meyers to talk about Donald Trump, Ted Cruz, and writing on the 2016 election.
Bruni explained that he and Ted Cruz have a "mutual relationship" of dislike for one another and that when he was covering George W. Bush's election he had dinner with a group of campaign aides which included Ted Cruz, well before his political ambitions had taken off.
As for Trump, Bruni has been called a "dope, dummy, and loser" by him, and Bruni believes he's winning by spewing:
"I think he does this amazing job of putting so much fodder out, of feeding so much news stuff to the media every single day that his sins of the past get erased. No one remembers after three weeks that he said 'let's ban Muslims' because he's given so much fresh chum in the water. It's sort of like The Eternal Sunshine of the Spotless Candidate. The past keeps getting erased."
And both Bruni and Meyers fear for what happens if Trump loses Iowa.
Watch:
Bruni also talked about his former job as the chief New York Times restaurant critic, whether he still finds it "joyous" to eat, what the hardest part of those jobs were (the vocabulary) and the stealth ways he had to behave to take restaurants by surprise.