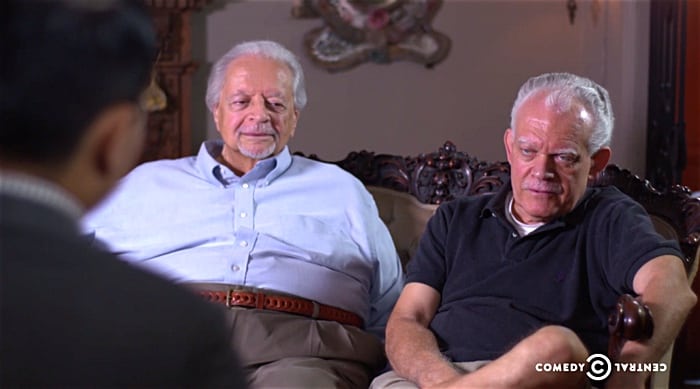 Back in November, we told you about the gay Pennsylvania man who adopted his partner in an effort to establish legal rights since they couldn't marry.
Nino Esposito and Roland Bosee Jr., who've been together for 45 years, are now trying to have their 2012 adoption annulled so they can marry, but they've encountered legal difficulties.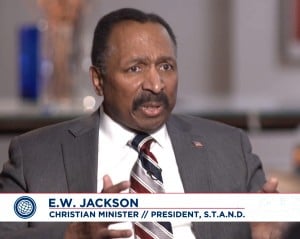 On Monday, "The Daily Show" aired a hilarious segment about the couple's "father-son" relationship, playing on the right-wing "slippery slope" argument about same-sex marriage and incest. After visiting the couple and asking Esposito why he's "banging" his son, correspondent Ronny Chieng determines that they have "some gross human equality fetish."
Chieng then asks anti-gay preacher and failed politician E.W. Jackson about the couple's adoption.
"If a heterosexual couple did that, I think we'd want them to put then in jail," Jackson says. "This is just backdoor proof that there's something fundamentally wrong with trying to redefine marriage."
After giving Jackson a fist bump for using "backdoor" in reference to gay rights, Chieng explains that whether he likes it or not, there is in fact such a thing as same-sex marriage.
"God has said there isn't, so there isn't," Jackson responds. "Look, I can't enter into an agreement to become a McDonald's sandwich because I'm not. I could smell like a McDonald's sandwich, but I can never be a McDonald's sandwich, and so two men can never be a marriage."
"Gay marriage is like trying to be a McDonald's sandwich?" Chieng says.
"Except people, I think, get some level of nutrition from McDonald's sandwich," Jackson responds.
Watch the segment below.