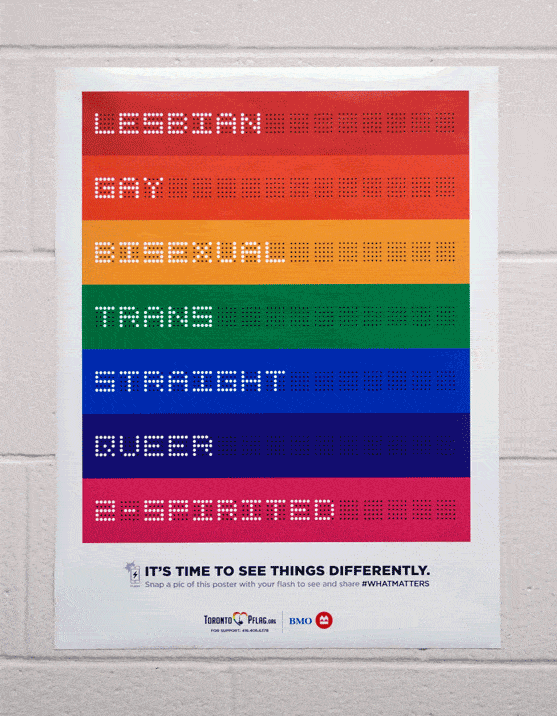 With the help of the local PFLAG chapter, the Toronto school district is using smart-phone-activated Pride posters to raise awareness about LGBT issues.
To the naked eye, the posters show the seven colors of the Pride flag, with each shaded rectangle occupied by one of the words, "Lesbian, Gay, Bisexual, Transgender, Straight, Queer, 2-Spirited." (Queer is frequently interchanged with "Questioning," and "2-Spirited" is an American Indian term for LGBT.)
However, when students photograph the posters using the flashes on their smart phones, another word appears alongside each of the existing ones, so that the posters read: "Lesbian Partner," "Gay Teammate," "Bisexual Buddy," "Trans Friend," "Straight Ally," "Queer Supporter" and "2-Spirited BFF."
The bottom of the posters reads: "It's time to see things differently. Snap a pic of this poster with your flash to see and share #WhatMatters."
"We wanted to send a positive message to students that we are all more than just our gender identity and sexual orientation," Toronto Pflag president Anne Creighton told AdWeek. "Our mission is to get students talking about these things, so the novel and shareable nature of this poster was a perfect fit for our message."
The posters were designed by J. Walter Thompson Canada using a special printing technique especially for the campaign, AdWeek reports.
"By taking a traditional medium like print and adding an interactive component that's triggered by students' phones, our message has a greater likelihood of being shared," said Ryan Spelliscy, the company's executive creative director. "School hallways are a busy place, so trying to compete with everything else on the walls is a challenge."
Supporting #whatmatters @TorontoPFLAG & @JWTCanada and @BMO sheds light on labels https://t.co/vCOuC8eMGt

— Scott M (@Skootstweets) January 22, 2016
The @tdsb deserves a big shout of for this. Such a creative & engaging way to get students talking about #LGBTQ issues #WhatMatters

— Alexander Young | AY Design (@Alex_Young14) January 22, 2016