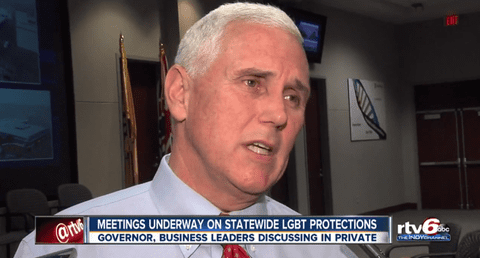 After studying the issue for some 175 days, Republican Indiana Gov. Mike Pence (above) suggested Tuesday that he'll finally reveal his position on a proposed LGBT nondiscrimination bill during his State of the State Address on Jan. 12.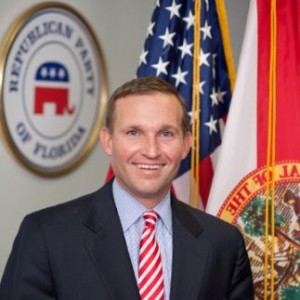 Meanwhile, Jacksonville, Florida Mayor Lenny Curry (right) also said he'll announce whether he supports or opposes an LGBT nondiscrimination ordinance sometime this month.
On Tuesday, we told you how Democrats harshly criticized Pence for failing to include LGBT civil rights on his agenda for this year's legislative session, and for refusing to take a position on the bill. Hours later, Indianapolis' WFYI reported:
The governor maintains he is listening to all sides of the debate, though he's rebuffed questions about his stance on LGBT rights for months – essentially since the last legislative session. With his yearly State of the State address approaching, Pence says Hoosiers will soon know his position.
"It's one of the best opportunities I have as governor to speak directly to the people of Indiana on a broad range of issues and we'll likely take advantage of that next week," he said
If Pence does weigh in soon, House Speaker Brian Bosma says that will have an effect on what lawmakers do.
"But the legislature and each of the House and Senate are independently-elected constitutional bodies and the governor is not the boss of them," Bosma said. "Everyone has their own opinions on these things and we'll work, as we have in the past, through thorny issues trying to get to the right decision for all."
As we've mentioned, the current version of Indiana's nondiscrimination bill includes religious exemptions so broad that Lambda Legal has called it "a wolf in sheep's clothing." However, a large coalition of businesses is pushing for the legislature to act on the issue, and undo some of the economic damage caused by passage of the anti-LGBT Religious Freedom Restoration Act last year.
In Jacksonville, Mayor Curry told The Florida Times-Union with regard to the proposed nondiscrimination ordinance that there are "some smart, passionate people on both sides who make points that matter when you start talking about legislation."
"What I can tell you is that you'll have clarity from me this month," Curry said. "That's my plan."
After three recent town halls on the issue, the Jacksonville City Council is expected to take up the nondiscrimination ordinance in coming months, although one member has introduced a proposal calling for a voter referendum. Jacksonville is the second-largest city in the nation, behind Houston, that lacks an LGBT-inclusive nondiscrimination ordinance.