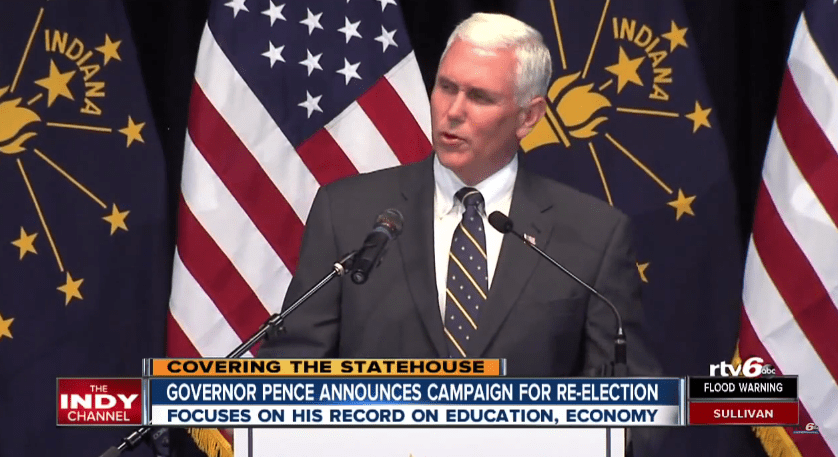 A year after the national uproar over Indiana's anti-LGBT "religious freedom" law, the state could again become a flashpoint in the battle over gay rights.
Republican legislators have introduced Senate Bill 100, which would ban anti-LGBT discrimination but includes broad religious exemptions. Lambda Legal, the LGBT civil rights group, has called the bill "a wolf in sheep's clothing" and "a roadmap for discrimination against LGBT people."
GOP Gov. Mike Pence, who defended and signed Indiana's anti-LGBT Religious Freedom Restoration Act last year, is up for re-election in 2016. In response to intense backlash from businesses, the Legislature passed an emergency "RFRA fix" to clarify that the law didn't allow anti-LGBT discrimination.
Pence didn't include LGBT nondiscrimination on his agenda for this year's legislative session, which began today, and he's declined to take a position on SB 100. On Monday, Democrats slammed the governor, who has a long anti-LGBT record, for dodging the issue, according to The Indiana Business Journal:
"How many more times must Pence put Indiana's coveted 'Hoosier Hospitality' reputation in jeopardy?" said Drew Anderson, a spokesman for the Indiana Democratic Party, in a statement. "Hoosiers deserve to have a governor who will restore the state's welcoming reputation and use common sense to solve today's problems for them."
Senate Democratic Leader Tim Lanane, D-Anderson, echoed the party's complaints.
"Sadly, Gov. Pence is still tone deaf on extending civil rights protections to LGBT Hoosiers," said Lanane in a statement. "Omitting the issue from his legislative agenda couldn't make his intentions clearer: He wants to make RFRA go away. And that won't cut it."
A coalition of more than 300 businesses, called Indiana Competes, has formed to push for an LGBT nondiscrimination law. However, Senate Republican leader David Long said Tuesday there is no consensus on the issue among legislators, according to the Associated Press.
Meanwhile, anti-LGBT groups are challenging Indiana's "RFRA fix" in court, and one GOP lawmaker has introduced a proposal that would make it a crime for transgender people to use public restrooms according to their gender identity.