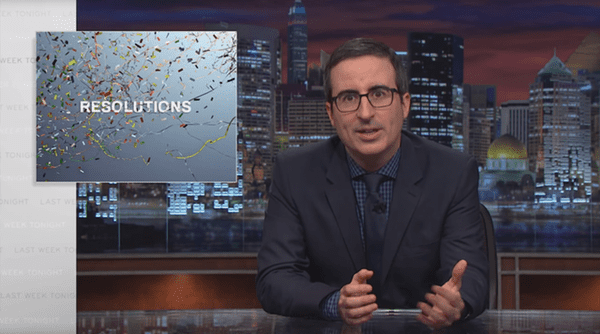 Funnyman John Oliver has some advice for you about New Year's resolutions, or as he calls them, "the exact middle ground between lying to yourself and lying to other people."
While studies have shown that the vast majority of people fail at keeping their New Year's resolutions, Oliver thinks this is looking at the problem all wrong. "The key thing with resolutions is not how to keep them; It's how to revise them once you've failed," he says.
"The main problem with New Year's resolutions is that we set our expectations way too high. For instance, lot of people say they want to exercise more. But that's hard. Exercise is like reading for your muscles. Except you can't watch a movie of someone else exercising and basically get the gist of it. So instead of beating yourself up cuz you haven't gone to the gym yet, simply lower your standards for what counts as exercise to anything that brings your heart rate up. That way, instead of jogging, simply try waking up late for work. Or taking a pregnancy test."
In other words, "you haven't failed to keep your New Year's resolution, you've just succeeded in a different way," as Oliver puts it.
He adds, "Deep down, we all now the key to a successful resolution is managing disappointment–and that's it."
Let John Oliver teach you how to enjoy your failures, below.