On Sunday, British Olympic diver Tom Daley shared a photo on social media of a hearty English breakfast he was making for his fiancé Dustin Lance Black. Daley's followers soon became obsessed with the pan being used to make the aforementioned calorie-laden breakfast.
https://instagram.com/p/BAEvDMIL-j-/
As Mashable points out, making a full English breakfast a la Daley can be something of a challenge given just how many components are typically involved — "eggs, bacon, sausages, and beans." Why? Timing. It's not easy to get all that breakfast accoutrement to be ready to serve at the same time.
And that is why Tom Daley's frying pan made people lose their minds. It seemingly side-steps the pesky problem of timing by having a different section of the pan for each item, allowing everything to finish at the same time. But what about temperature, you may wonder, as people did on Twitter.
https://twitter.com/Judoon_Platoon/status/683630349591646208?ref_src=twsrc%5Etfw
Apparently, the pan has thought of it all, so says Daley.
@gingio @Joe_363_ it's true but the middle is where the meat goes so the faster cooking comes in handy and it all finishes at the same time!

— Tom Daley (@TomDaley1994) January 3, 2016
People in the UK in particular became obsessed (which makes sense).
https://twitter.com/rosssemple/status/683607690145312772?ref_src=twsrc%5Etfw
https://twitter.com/shoedoll/status/683649217248759808?ref_src=twsrc%5Etfw
And they really wanted to blow some disposable income on Daley's pan.
https://twitter.com/elenacresci/status/683621738521976832?ref_src=twsrc%5Etfw

Daley also made to sure address why there were no carbs in this English breakfast.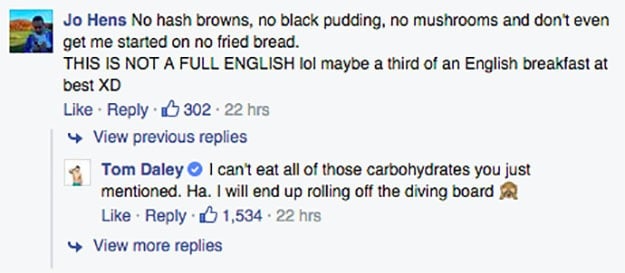 And Dustin Lance Black decided to share a photo of him enjoying the fruits of Daley's labor.
https://instagram.com/p/BAHtCKiM8jd/?taken-by=dlanceblack
Black also revealed (in case there was any doubt) that he was the one who snapped the photo of the now-famous pan.
A pan is a pan is a pan, but the photographer's angle on that pan? Now that's A-plus work! 😉 https://t.co/NaeztkZZgz

— Dustin Lance Black (@DLanceBlack) January 4, 2016
Does Tom Daley's frying pan do it for you?