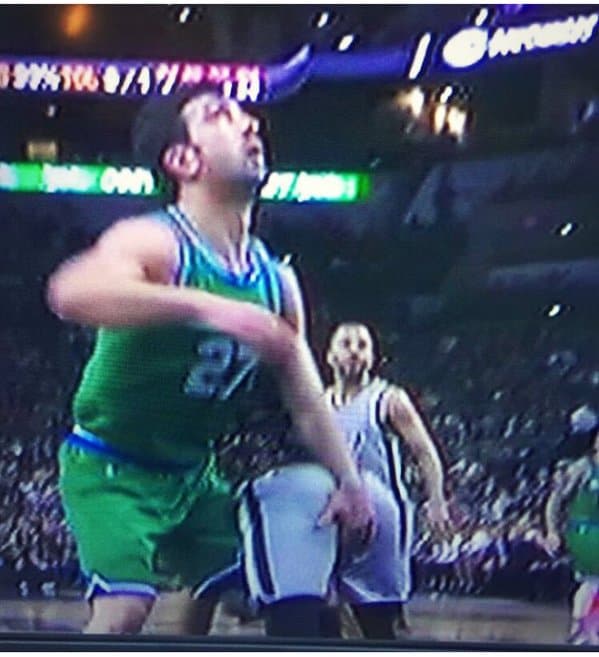 Talk about a rim job!
Patty Mills, a point guard for the NBA's San Antonio Spurs, joked that he was a "bit sore" after Dallas Mavericks center Zaza Pachullia grabbed him between the butt cheeks and threw him to the floor during their game on Sunday.
Pachullia was called for a "Flagrant 1" foul, meaning the Spurs got two free throws and possession of the ball. However, the foul was actually called as a result of an elbow that Pachullia threw to Mills' head, not the subsequent violation in the vicinity of his "taint." Mills can be seen recombobulating himself as he walks away from the incident in the video below.
Afterward, Mills' teammates Boris Diaw and Manu Ginobili couldn't resist poking fun at him:
Sorry for what happened to you @patty_mills
Definitly a flagrant foul!!! https://t.co/qQhqJI29Bc

— Boris Diaw (@theborisdiaw) January 18, 2016
How did you wake up @Patty_Mills?? 😂😂

— Manu Ginobili (@manuginobili) January 18, 2016
Mills responded with this tweet:
@manuginobili bit sore 😣

— Patrick Mills (@Patty_Mills) January 18, 2016
Then, even more juvenile hilarity ensued:
@theborisdiaw @Patty_Mills Did Zaza at least buy Patty dinner?

— Nathan Ray Clark (@NathanRayClark) January 19, 2016
https://twitter.com/USAF_VETERAN_/status/689501682099613696
https://twitter.com/JMatmar13/status/689124316227612672
https://twitter.com/1Spurs_Fan/status/689097958722265088
Did you see how @theborisdiaw & @manuginobili helped @Patty_Mills make The Washington Post?https://t.co/sLzKo3TWbJ

— Joe Schlmoe (@Faux_Schlmoe) January 20, 2016
@theborisdiaw @Patty_Mills Homeboy went home like… #SmellMyFinger pic.twitter.com/PTq13MClnw

— Heyward (@heyward1971) January 19, 2016
Watch the foul below.