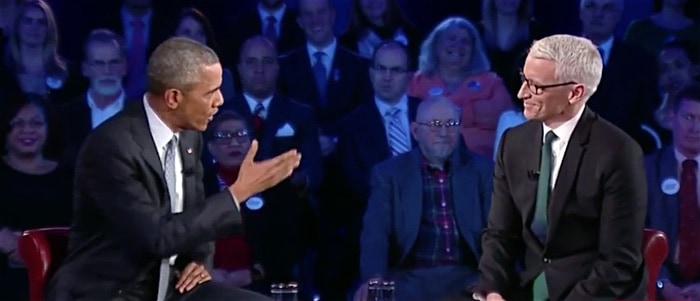 At last night's CNN Town Hall on gun control at George Mason University in Fairfax, VA, Anderson Cooper's discussion with President Obama got fiery when Anderson asked The President if it's fair to use the word "conspiracy" when discussing people who accuse Obama of wanting to take away guns.
"A lot of people really believe this deeply, that they just don't trust you," said Anderson, clearly touching a nerve.
Said Obama:
"I'm sorry, Cooper. Yes. It is FAIR to call it a conspiracy. What are you saying. Are you suggesting that the notion that we are creating a plot to take everyone's guns away so that we can impose martial law a conspiracy? Yes, that is a conspiracy. I would hope that you would agree with that. Is that controversial? Except on some websites are around the country?"
Obama later laid it down:
"It is a false notion that I believe is circulated for either political reasons or commercial reasons in order to prevent a coming together among people of good will to develop common sense rules that will make us safer while preserving the second amendment. And the notion that we can't agree on some things while not agreeing on others and the reason for that is – well, the President secretly wants to x  – would mean that we would be paralyzed about doing everything….
Watch:
https://www.youtube.com/watch?v=bkrv7civfAQ
Meanwhile, conservative pundit S.E. Cupp says she's "simply taking him at his word."