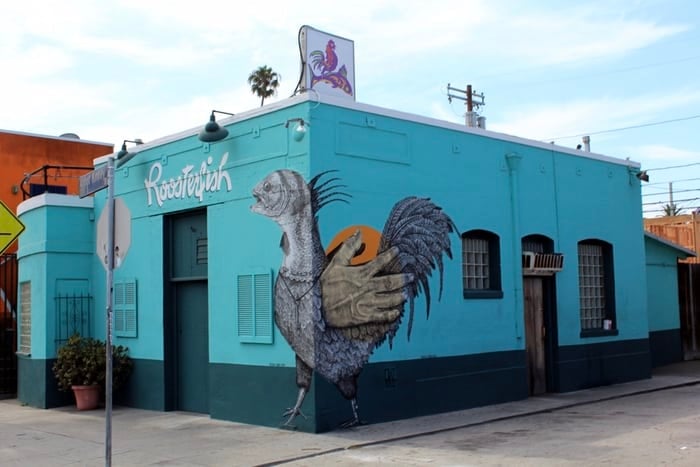 Los Angeles is losing one of its oldest and most dearly beloved gay bars: Roosterfish in Venice is set to close after 37 years after a rent hike has made its lease unaffordable.
Wrote bartender Gaetano Jones on Facebook:
"So yes the rumors are true… After 37 years of business, The Roosterfish is closing for good in May… I have been lucky to work there since I have arrived in LA, but all things come to an end. Now if anyone hears of some good job openings for a single dad please pass them along to me."
"The landlord raised the rent," Jones added in a reply to his original post.
The Roosterfish's history, according to its website:
The Roosterfish opened in 1979, the brainchild of two remarkable men, Walter Schneider and B. M. Alexander, known as "Alex" to his friends. These two pioneering businessmen had started one of the first gay establishments in West Hollywood, The Gallery Room. Alex and Walter also briefly ran a hot discotheque called Up Disco.
Walter and Alex decided to locate to Venice when their friend Lewis Beckman spotted a prime location on Abbot Kinney Boulevard. As Walter and Alex enjoyed sailing off the coast of Mexico near Cabo San Lucas, they named their new establishment after a feisty species of game fish know as a "roosterfish." Lewis served as the manager of the bar, serving cocktails until his much-lamented passing in 1994; by that time, Walter, who had been a silent partner until Alex's death in 1988, became active in the day-to-day operation of the bar. When Walter himself passed away in 2006, celebrated but missed by his many loving friends, he left the Roosterfish to his accountant, Doug Amann, Donald Rhyde (who had been Alex's domestic partner), to a comrade of long standing, Don Cranford, and a loyal friend, Gary Mick, who now manages the bar.
An important landmark on a vibrant boulevard in Venice, California, the Roosterfish serves a discerning clientele drawn from across Southern California and beyond.
(via frontiers; image via wally gobetz flickr cc)