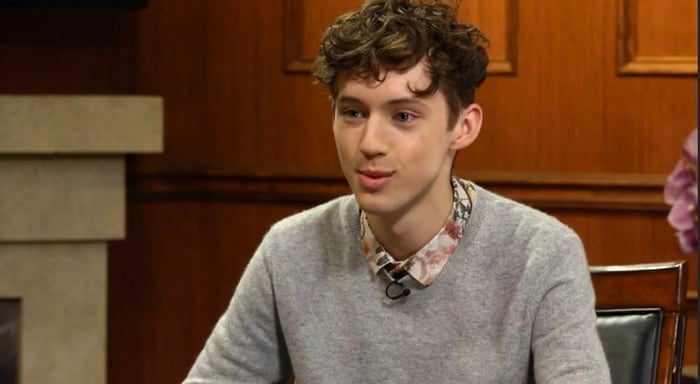 Gay actor and YouTuber-turned-pop-artist Troye Sivan sits down with Larry King on his latest show on OraTV and talks about his musical success with his album Blue Neighbourhood, appearing on the cover of Rolling Stone, his past in Perth, Australia, and coming out of the closet:
"The thing that kind of inspired me to come out to my family and kind of gave me that initial strength was I went on to youtube and watched a bunch of coming out videos, which are basically just videos of people telling their story or maybe they set up a camera while they told their parents and those videos kind of made me realize the different kind of reactions you could get, but ultimately it just gave me hope and strength. I came out to my family and then kind of just became so comfortable over the years and at the same time, I built up a Youtube audience of my own so I just thought it was kind of my opportunity to give back to the community."
King asks Sivan how the reaction has been:
"The internet is a funny place. There's definitely always going to be people saying things but ultimately it has just been overwhelming love."
King asks why it's easier these days for kids to come out:
"I attribute it to the internet. I think in the past a kid being raised by homophobic parents had no way to learn any other alternative, and now with the internet they can have the most homophobic parents in the world but go online and see a gay YouTuber or watch some TV even. I think it's representation in the media that is really opening people's minds in a much, much quicker way than it's happened before."
Sivan also talks about how his musical interests developed:
"It's pop music, ultimately. I've been obsessed with pop music since I was a little kid. At the same time I think I kind of—around probably fourteen or fifteen, had this mind-blowing revelation that pop music can still be interesting and still be cool and doesn't have to necessarily undermine the audience and like hit them over the head with the chorus or whatever. Pop music, but slightly alternative pop music. Hopefully interesting pop music."
Watch:
Get Towleroad Headlines Daily.
News daily from one of the most trusted, independent, lgbtq owned and operated media outlets. Covering news, entertainment, science, media, art and more for almost 17 years.