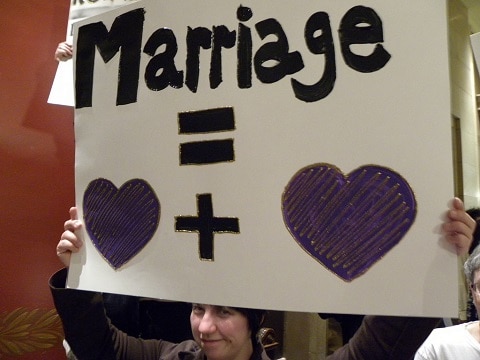 The legal battle over same-sex marriage that culminated in the U.S. Supreme Court's ruling in Obergefell v. Hodges was a costly one for American taxpayers.
Twenty-five states that defended same-sex marriage bans in federal court have agreed or been ordered to pay a combined total of more than $13.5 million in plaintiffs' attorneys' fees in 41 cases, according to The National Law Journal. And with requests for attorneys' fees still pending in same-sex marriage cases from numerous states, that figure is only expected to grow.
Of course, plaintiffs' attorneys fees represent only part of the amount states have spent fighting same-sex marriage. They also paid their own attorneys and in some cases outside counsel to defend the bans.
Under federal law, prevailing parties in civil rights cases are typically eligible for "reasonable" fees and costs. Thus far, "reasonable" has meant awards of more than $1 million to plaintiffs' attorneys in same-sex marriage cases from six states: Indiana, Kentucky, Michigan, Pennsylvania, Ohio, Wisconsin and Kentucky. Tennessee, where a $2 million request is pending, is also likely to join the seven-figure club.
In two same-sex marriage cases, one in Alabama and one in Michigan, judges have denied requests for attorneys' fees, saying plaintiffs weren't "prevailing parties" because Obergefell rendered their legal claims moot, The National Law Journal reports. Attorneys in those cases have appealed the decisions. Also on appeal is a Texas case in which the attorney general's office is challenging a judge's award of $605,000.
Attorneys for same-sex couples have billed states up to $980 an hour for their work, although average rates were from $130 to $500. In some states, attorneys have donated their fees to public interest groups, and in one, Utah, they didn't seek any. The Salt Lake City firm of Magleby Cataxinos & Greenwood took an $800,000 loss in Kitchen v. Herbert to avoid the perception that the case was about money.
"We believed that even though we had a shot at winning at some point in the process … people still had to live in their communities and be accepted and educate people," partner Peggy Tomsic told The National Law Journal. "We all just tightened our belts."
Read the full story here.