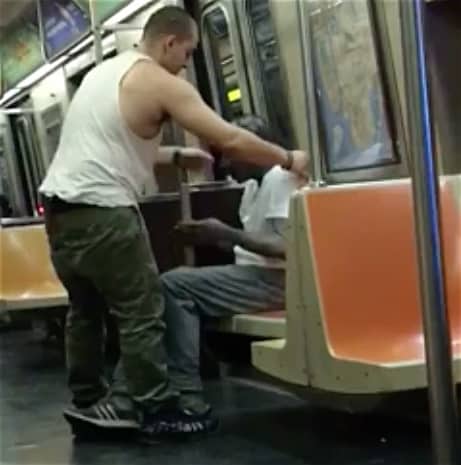 Sometime late Friday night, a man riding the NYC A Train to Brooklyn gave the shirt off his back as well as his hat to a shivering older man without one, and the video of the kind act, filmed by another passenger, has gone viral, with more than 6.4 million views since Friday.
[fbvideo link="https://www.facebook.com/alcoiri/videos/vb.1211714852/10205433319331704/?type=2&theater" width="480″ height="400″ onlyvideo="1″]
After spending time with his girlfriend, Lazaro Nolasco said he boarded the train at Washington Heights and watched the good deed unfold during the long stretch between 125th and 59th streets 10 p.m. Friday.
"It was just us on the train," said Nolasco, whose video of the encounter went viral.
"The guy didn't have a shirt on," he told the Daily News. "His body looked sick."
The 21-year-old watched the man take off his shirt and shared it with the man-in-need as nighttime temperatures in Manhattan neared freezing. His gift left him with only a muscle tank to shelter him from the elements.
Nolasco said the good samaritan asked the shivering man if he wanted to got to the hospital and the man said yes. Presumably, that happened, but Nolasco said he exited the subway before the two men seen in the video got off.