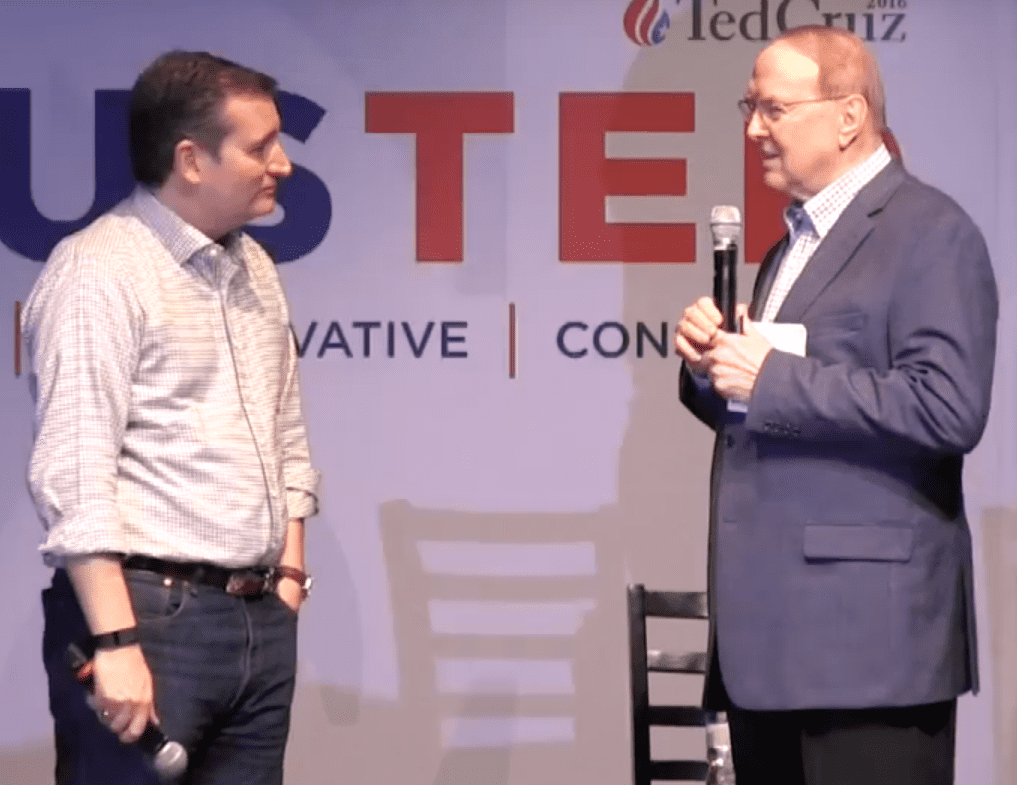 Flanked by Focus on the Family's James Dobson (above right), Republican presidential hopeful Ted Cruz unleashed yet another anti-gay, pro-gun tirade on Monday in Winterset, Iowa.
Cruz is on a six-day bus tour of 28 towns in Iowa, where he leads national frontrunner Donald Trump in most polls just weeks before the state's Feb. 1 caucuses. Experts say anything worse than a close second-place finish behind Trump in Iowa would be devastating to the Cruz campaign, and the junior senator from Texas is counting on the state's many evangelical Christians and tea party conservatives.
Taking questions from Dobson at a theater in Winterset, where water leaked onto the stage from overhead, Cruz told the crowd that the U.S. Supreme Court's June rulings in favor of same-sex marriage and the Affordable Care Act were "fundamentally illegitimate." He also said they were "lawless and will not stand," according to a report from ABC News.
Cruz said the high court is "out of control" and that if Hillary Clinton is elected president, the Democrat will appoint justices to solidify an "ultra-liberal, lawless majority." The result, he said, will be a ruling that makes it a felony to own a firearm.
"Come and take it!" a person in the crowd shouted in response.
"I think Iowa and Texas have some things in common here," Cruz said.
The other day, in response to news of President Barack Obama's executive order on gun control, GOP Texas Gov. Greg Abbott sent out the following tweet:
Obama wants to impose more gun control. My response.#? COME & TAKE IT @NRA #tcot #PJNET https://t.co/RUPbcev5jY pic.twitter.com/8VNwisj966

— Greg Abbott (@GregAbbott_TX) January 1, 2016
Also at Cruz's rally in Winterset on Monday, an Iowa family music group sang a bizarre song they wrote about Cruz, according to The Washington Post:
https://twitter.com/katiezez/status/684189848161398784?ref_src=twsrc%5Etfw
Watch video of Cruz and Dobson in Winterset below.