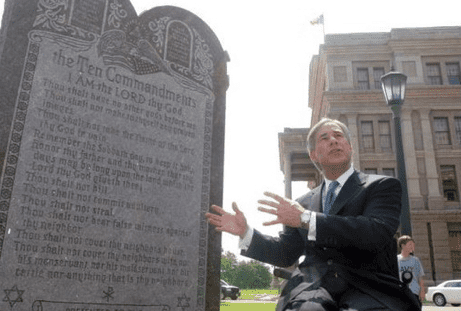 Anti-gay Texas Gov. Greg Abbott on Friday called for a national convention to pass nine amendments to the U.S. Constitution, including several that would undermine marriage equality and LGBT rights.
For example, Abbott's proposed amendments would allow states to override federal laws or U.S. Supreme Court decisions if two-thirds of them disagreed, prohibit administrative agencies from creating federal law or pre-empting state law, and require a seven-justice supermajority for Supreme Court decisions that invalidate any law passed by state or federal legislators.
The Houston Chronicle notes that Abbott unveiled his states' rights manifesto "in the wake of Republican outrage over President Obama's actions on issues, including gun control and immigration; Supreme Court decisions on cases involving such matters as gay marriage and health care; and federal agency action on the environment and other issues."
"The irony for our generation is that the threat to our Republic doesn't come just from foreign enemies, it comes, in part, from our very own leaders," Abbott told a conservative group in Austin on Friday, in a speech unveiling what he calls "the Texas Plan to restore the Rule of Law."
Abbott also released a 92-page document detailing the proposals.
"The increasingly frequent departures from Constitutional principles are destroying the Rule of Law foundation on which this country was built," he said in a release. "We are succumbing to the caprice of man that our Founders fought to escape. The cure to these problems will not come from Washington D.C. Instead, the states must lead the way. To do that I am adding another item to the agenda next session. I want legislation authorizing Texas to join other states in calling for a Convention of States to fix the cracks in our Constitution."
A constitutional convention would require the support of 34 states, and the amendments would need to be ratified by 38 states, both seen as highly unlikely. But The Texas Tribune notes that GOP presidential candidate Marco Rubio has also called for a national convention, and Ted Cruz has advocated several constitutional amendments, including one that would allow states to ban same-sex marriage.
Here are a few reactions to Abbott's proposal from Twitter:
https://twitter.com/andreagrimes/status/685549938990686208?ref_src=twsrc%5Etfw
Essentially, Greg Abbott, because of gay marriage and whatnot, wants to blow up the United States without actually firing at Ft Sumter

— Bob Cook (@notgoingpro) January 8, 2016
https://twitter.com/cd_hooks/status/685550066140971009
@GregAbbott_TX is apparently really mad we replaced the Articles of Confederation with that pesky constitution.

— Wingspan (@_w_span) January 8, 2016
https://twitter.com/GregortheMendel/status/685582398835130368