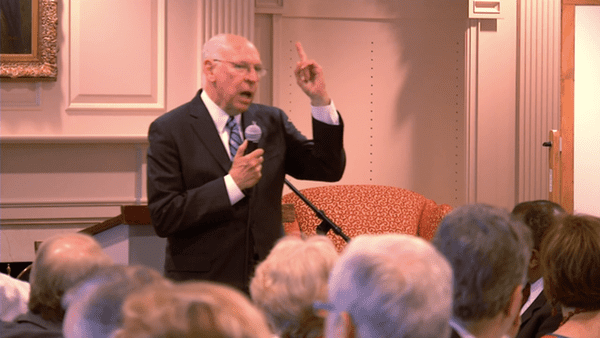 Rafael Cruz, father of Republican presidential hopeful Ted Cruz, thinks it's "appalling" that Houston had a gay mayor. The mayor he's referring to, of course, is Annise Parker, who just left office because she was term-limited. Parker led the fight in favor of the Houston Equal Rights Ordinance (HERO) but ultimately lost in a devastating defeat for the LGBT community.
Cruz made his remarks about Parker at a luncheon in the lead-up to the vote on HERO.
Cruz's speech was full of his usual fire and brimstone. As he cited one biblical passage after another, he complained that too many Christian pastors do not engage in politics, and he slammed those clergy who do not preach "biblical truths." He praised Kim Davis, the Kentucky county clerk who would not issue same-sex marriage licenses. Referring to the Supreme Court decision on gay marriage, he exclaimed, "The devil has overplayed his hand." He suggested that the five justices who supported the ruling should be considered candidates for impeachment.
Cruz went on to signal that he's not only against gay rights; he's opposed to gays and lesbians holding public office. He noted that because "righteous" evangelical Americans are not voting in sufficient numbers, the nation faces a terrible situation: "the wicked electing the wicked." He went on to declare, "It is appalling that in a city like Houston, right in the middle of the Bible Belt, we had a homosexual mayor."
Watch Cruz's rant, below.