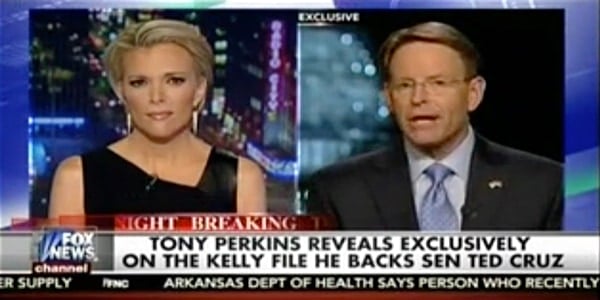 Tony Perkins, the leader of the hate group Family Research Council, appeared on FOX News with Megyn Kelly last night to offer his personal endorsement for president.
Said Kelly: "Tonight, with just 48 hours to go until the debate, comes an endorsement that could be critical to this Republican nomination….Tony, good to see you. So they all wanted you. You are an influential man in conservative circles in particular with evangelicals. So who are you endorsing?"
Replied Perkins:
"Well, Megyn, as I promised, I would let your viewers know first. Let me just say up front, this is a personal endorsement, not from any of the nonprofit organizations that I lead. After looking at these candidates, talking with them, and I have many friends in this race, but I believe the one best positioned, best prepared to lead this nation forward pulling it out of the tailspin that this president has put us in, I believe is Ted Cruz."
Watch: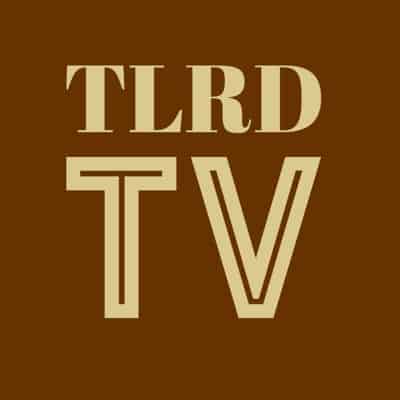 Republican frontrunner Donald Trump had had mishaps with both Kelly and Perkins during this election season.
Most notably, he's skipping the Republican debate this week because of his animus toward Kelly, who he called a "lightweight".
https://twitter.com/realdonaldtrump/status/692312112115380224
Trump has also blamed Perkins for his Bible blunder last week in which he pronounced 'second Corinthians' as '2 Corinthians', an error which has been mocked by his Bible-loving rivals.
The Republican presidential front-runner said in an interview with CNN's Don Lemon Wednesday that Perkins, the president of the Family Research Council, had given him notes on what to say when he visited the evangelical university in Lynchburg, Virginia.
"Tony Perkins wrote that out for me — he actually wrote out 2, he wrote out the number 2 Corinthians," Trump said. "I took exactly what Tony said, and I said, 'Well Tony has to know better than anybody.' "
Trump's pronunciation of the Bible verse drew laughter from the Christian audience — but he downplayed it, saying his Scottish mother would have said "two Corinthians," as well.