DUGGARDOM. Josh Duggar may have impregnated his wife Anna when she visited him in a Christian rehab facility for sex addiction.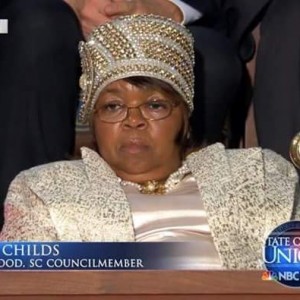 SOTU. Greenwood, South Carolina Councilmember at the State of the Union with her cutaway shot last night.
YOU CAN'T STOP THE BEAT. NBC announces that Hairspray will be its next live musical. NBC also reportedly wants a shot at a live Hamilton musical.
OBAMA. Get ready for a series of executive actions from President Obama due to an obstructionist Republican congress: "[T]he White House is signaling the president won't be afraid to take risks to check off pieces of unfinished business with just 12 months left in office." But is it a good precedent to set? Discuss.
ZIGGY STARDUST. Westboro Baptist Church plans to protest David Bowie's funeral: "In response, Planting Peace, the organization behind The Equality House, which is painted the colors of the rainbow and sits across the street from the Westboro Baptist Church, announced a fundraiser for children living with cancer as a form of counter-protest."
LETTER TO THE ETHICIST. "Should I tell mom I think dad was gay?" "I came out to my parents in the 1970s, while home from college. That same night, my father took me aside and confided that before his marriage he had an affair with a man but got psychological help and was ''cured.' He hoped I would do the same. He said, ''Promise not to tell your mother — it will break her heart.' I promised."
POLITICAL MOVES. White House liaison to the LGBT community Aditi Hardikar steps down and moves to the Hillary campaign as finance director of coalitions: "White House officials credited her with playing a critical role in some of the administration's more cutting edge and controversial moves on gay and transgender rights, such as the opening of the first-ever all-gender restrooms at the White House and the decision to light up the White House in rainbow colors the day the Supreme Court legalized same-sex marriage nationally."
RIGHT WING NUTS. Ann Coulter thinks Donald Trump should deport South Carolina Republican Governor Nikki Haley because she's not xenophobic enough.
BOY BANDS. One Direction may be permanently breaking up according to a "source": "The 1D thing just ran its course."
ELECTION 2016. Eric Holder endorses Hillary: "Holder, who served as President Barack Obama's top law enforcement appointee for more than five years, said Clinton 'is the candidate that we need in the White House' to continue 'the progress of President Obama.'"
HUMP DAY HOTNESS. Featuring Ferran Calderon.