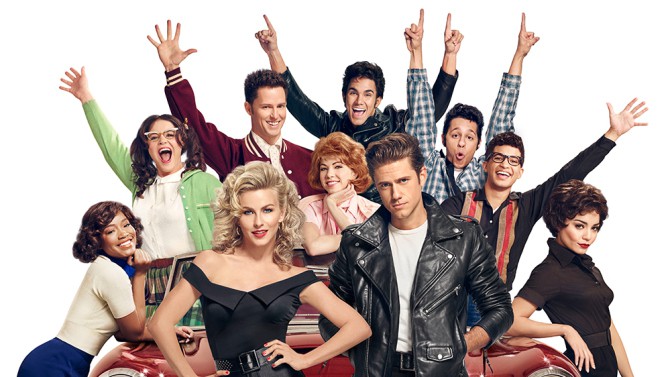 Sunday night saw Fox make its first foray into the world of live musicals in a big way with Grease: Live! Directed by Thomas Kail (Broadway's In The Heights, Hamilton), the show was roundly praised by critics as a smash.
The show also drew in stellar ratings, coming in as the highest-rated live musical to hit airwaves since The Sound of Music: Live! drew in 18 million viewers. EW reports: "Sunday night's Grease: Live delivered 12.2 milllion viewers and a strong 4.3 rating among adults 18-49. The three-hour musical was easily the biggest show on broadcast, and also beat two of NBC's live musical stagings in the overnight numbers."
Fox has posted all the musical numbers online which you can watch (and re-watch) as many times as you want, below.
While all the numbers were great, pay particular attention to the innovative directing and performance that transformed the so-so "Freddy My Love" into a standout (bravo, Keke Palmer), Julianne Hough's belting out "Hopelessly Devoted" (not an easy song to tackle), Carly Rae Jepsen's original track "All I Need is An Angel", and Vanessa Hudgens' understated but emotionally-charged "There Are Worse Things I Could Do."
Hudgens's powerhouse performance was all the more impressive given that her father passed away the day before Grease: Live! was to go on. He passed away after a battle with cancer. Hudgens shared the news on Twitter and said she dedicated her performance to him.
I am so sad to say that last night my daddy, Greg passed away from stage 4 cancer. Thank you to everyone who kept him in your prayers.

— Vanessa Hudgens (@VanessaHudgens) January 31, 2016
Tonight, I do the show in his honor.

— Vanessa Hudgens (@VanessaHudgens) January 31, 2016
---
"Summer Nights"
https://www.youtube.com/watch?v=nxWJVSOyPlk
"Not So Basic"
https://www.youtube.com/watch?v=NzwutHF04ek
"Freddy My Love"
https://www.youtube.com/watch?v=gKqcRzxp7sY
"Look At Me I'm Sandra Dee"
https://www.youtube.com/watch?v=_6TVMkvkjAI
"No Object of Lust"
https://www.youtube.com/watch?v=JtEPf0-Q1hI
"Greased Lightning"
https://www.youtube.com/watch?v=e9s9_a1-oXo
"Those Magic Changes"
https://www.youtube.com/watch?v=3r25EFaif6w
"All I Need Is An Angel"
https://www.youtube.com/watch?v=XmVEydWOSyc
"Beauty School Dropout"
https://www.youtube.com/watch?v=C8Bo7aB-vSU
"Rock 'n Roll Is Here to Stay"
https://www.youtube.com/watch?v=BqLWPF5T86o
"Hopelessly Devoted To You"
https://www.youtube.com/watch?v=gBTnVLCl_3s
"There Are Worse Things I Could Do"
https://www.youtube.com/watch?v=wKsXNyb44Jw
"Goodbye to Sandra Dee"
https://www.youtube.com/watch?v=LDhaAX5IlBY
"You're The One That I Want"
https://www.youtube.com/watch?v=F7b1hJvSmUQ
"We Go Together"
https://www.youtube.com/watch?v=j7-KRfULhoE