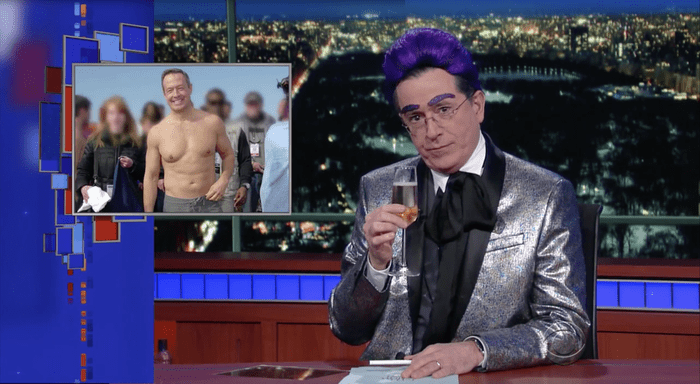 Last night Stephen Colbert remembered the presidential candidates who dropped out of the race for the White House after under-performing in the Iowa caucuses.
Colbert has been covering some of election 2016 in the style of The Hunger Games in what he has been calling the 'Hungry for Power Games.' He poked fun at three of the candidates that called it quits in the wake of the Iowa bloodbath, Rand Paul, Martin O'Malley and Mike Huckabee (though he left out Rick Santorum, perhaps due to the time when the news broke).
Mocking Paul, Colbert quipped, "The torch of liberty still burns, just keep it away from whatever it is that's nesting on your head." Also heaped onto the funeral pyre of politics was Democratic contender Martin O'Malley. "It seems that the high fructose voters of Iowa could not relate to a man in his 50s with abs like that," Colbert said. "He'll now return to his natural habitat, playing sleeveless guitar in a Viagra commercial."
Of Mike Huckabee, Colbert noted that "Huckabee's boldest stratagem was defending Kim Davis, the Kentucky clerk who refused same-sex marriage licenses and cream rinse." As for Huck's claim that he was willing to go to jail for Davis, Colbert joked, "Yes, jail, the White House, anywhere the government is willing to pay the rent. He just needs a place to crash."
Watch Colbert's salute to the fallen tributes, below.