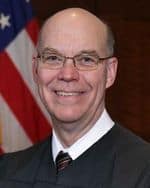 A federal judge in Nebraska has issued a permanent injunction against the state's ban on gay marriage.
The injunction issued Thursday by U.S. District Court Judge Joseph Bataillon was largely a formality, as a Supreme Court ruling in late June legalized gay marriage across the country.
Bataillon's injunction orders state officials to treat same-sex couples the same as different-sex couples in everything from processing marriage certificates to issuing birth certificates.
Same-sex couples in Nebraska requested the injunction because they feared the state would not comply with the U.S. Supreme Court's ruling on gay marriage issued last June in Obergefell v. Hodges.
Those couples essentially argued that because Nebraska had sought to exclude same-sex spouses from their children's birth certificates the state needed an additional reminder of where the law stands.
The judge in the case was the same judge that first struck down Nebraska's same-sex marriage ban in March.
In July, a county clerk in Nebraska threatened to refuse marriage licenses to same-sex couples over the strenuous objections of civil rights groups such as the ACLU.